JULIANNA ZOBRIST CELEBRATES LATEST RELEASE, SAY IT NOW AT
TROPICANA STADIUM ON JULY 17th
Uprising Star Recently Featured As iTunes® Download of The Week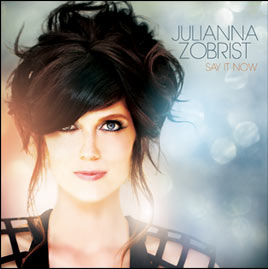 NEWS SOURCE: Rogers & Cowan
July 13, 2012
LOS ANGELES, Calif. (July 13, 2012) - Julianna Zobrist, pop singer and wife of MLB All-Star Ben Zobrist, will be hosting the listening party of her latest release Say It Now on July 17th at Tropicana Stadium immediately following her performance of the National Anthem at the Tampa Bay Rays home game. The album, which released this Summer, was recently featured as the iTunes ® Download of the Week and attracting fans of all ages.
Julianna is known for her electronic pop/rock music, as showcased on her most recent album, featuring tracks that inspire people to move and think. Her hit track, "Say It Now," is not only a "fist pumper" that will delight listeners, but it also addresses the idea of purpose in life. Say It Now is produced by a collection of the industry's top creators including Ian Eskelin (Hawk Nelson, Francesca Battistelli), Seth Mosley (Newsboys, MercyMe), David Garcia (Britt Nicole, TobyMac, Group 1 Crew), and Tedd T. (Stacie Orrico, Newsboys).
"I grew up listening to music that would make me move and dance," says Julianna. "If it did not make me dance, I did not want to listen to it. I write my music for all those who are like me. I want to provide music that inspires a person to move and think. Music in which you will want to dance around the house, but, also music that will prompt you to sit down, think and wrestle with the lyrics."
Previously, Julianna has taken the stage with award-winning artists such as Grammy and Dove Award winning group, Casting Crowns. Earlier this year, Julianna also performed at the MovieGuide Awards Gala alongside numerous other star-studded artists and entertainers such as Natalie Grant, actor Dean Cain and Corbin Bernsen.
Starting July 13 for the next three months, fans can purchase the physical CD, Say It Now, only at Family Christian stores across the country. The release is also available on iTunes.
In conjunction with the launch of the record, Julianna will be participating in community outreach in Tampa during the Summer and will be making additional appearances throughout the year.
For more information about Julianna's latest project, please visit www.thezobrists.com.