Glo Bible Reaches 1 Million Downloads
Immersion Digital apps reach 1 million downloads and 30 million minutes of Bible reading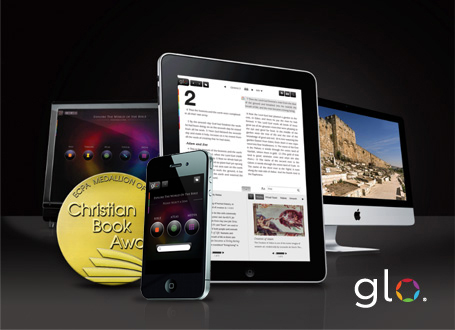 NEWS SOURCE: Immersion Digital
July 17, 2012
ORLANDO, Florida - July 16th, 2012 - Immersion Digital is thrilled to announce that on July 13th, 2012 Glo Bible and Powered by Glo products reached the milestone of 1 million app downloads. 1 million downloads translates into over 30 million minutes of Bible reading in over 120 countries.
"The heart of our mission is to leverage on technology to promote Bible engagement in this digital age. We are excited and honored about promoting 30 million minutes of Bible reading all over the world, and that is just the beginning. We are now targeting 2 million downloads before year end" says Nelson Saba, founder and CEO of Immersion Digital. "We hope through these apps to bring even more people closer to the Word of God."
The media-rich interactive Glo Bible app has been downloaded on iPad, iPhone, Mac and PC worldwide in multiple languages including English and Portuguese as well as the newly launched Mandarin and German versions. In addition, Glo technology powers Bible apps included in the 1 million figure such as "The Bible" by United Bible Societies and Bible360 which will have exclusive media from television Producer Mark Burnett and Roma Downey's upcoming television series on the Bible.
The top five Glo Bible downloading countries include the United States, Canada, Australia, United Kingdom and Singapore. The data also shows that Glo is used most during Sunday mornings and Wednesday nights, demonstrating churchgoers are using digital as an alternative to paper bibles in church services.
The 30 million minutes have been spent in the scripture text as well as the vast array of interactive media content within Glo. Glo includes thousands of media elements, including 360 degree virtual tours, maps, photos, Bible reading plans and more that immerse the user into the world of the Bible.
To celebrate this milestone Glo Bible and Powered by Glo products will be 30% off for a limited time. During the month of July Immersion Digital will also be announcing new in-app upgrade options as well as new apps that will join the Powered by Glo family.
"By opening Glo up to new translations, languages and audiences, we will increase the number of people who can connect with the Bible on their device of choice, using the bestselling NIV translation" Says Saba. "We see 1 million as just the first step of a upward trend towards increased Bible engagement through digital."
"We are delighted to see so many people using Glo's amazing, intuitive tools to increase their engagement with the Bible, said Chip Brown, senior vice president and publisher at Zondervan. "People just can't get enough of it."
Glo can be downloaded for free on Mac, iPad, PC and iPhone worldwide from www.globible.com. New users can receive "Glo Lite" with complete access to the bestselling NIV translation, along with the Glo Lite media pack, new social sharing features and more. Existing users can login on any device to access their media and translations.
About Immersion Digital
Immersion Digital is a technology and media company founded in 2008. Its flagship product, Glo, is an interactive Bible that brings God's Word to life through HD video, images, animations, maps, reading plans, 360-degree virtual tours and more. Chairman Phil Chen and CEO Nelson Saba (founder of Visual Book Productions, the creator of iLumina) share a vision to create immersive experiences that are relevant and engaging to this digital age. For more information please visit
# # #