PIONEER RELEASES MUSIC VIDEO TODAY ON SUBSTREAM & TOPS BDS CHART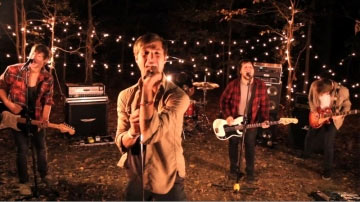 NEWS SOURCE: Slospeak Publicity
July 19, 2012
NASHVILLE, TN - July 19, 2012 - Slospeak Records' pop/rock act Pioneer will release their music video for "Lights" today on Substream Music Press. Watch it right HERE. The premier will last for one day before the video is available on Youtube. In addition, their second single, "Dreams," quickly climbed the BDS Rock Charts and held the #1 spot for the second week in a row.
"Lights" is from their self-titled release produced by Mark Townsend (Relient K, House of Heroes, The Wedding) in his Spring Hill, TN studio. Since the January release, the record has received positive critical acclaim from both Christian and mainstream press.
To follow the video release and continue their summer dates, the band will embark on a tour starting the end of this month.
Upcoming Tour Dates:
July 23 - Irving Theater - Indianpolis, IN
July 28 - Solid Rock Church - Rochester, IN
August 19 - Powerlight Fest - Springfield, OH
August 24 - TBA - Minneapolis, MN
August 25 - House of Freedom - Osceola, IA
August 27 - Word of Life Church - Framington, NM
August 30 - JoshuaFest - Plymouth, CA
August 31 - JoshuaFest - Plymouth, CA
September 1 - JoshuaFest - Plymouth, CA
September 6 - High Desert Church - Barstow, CA
September 12 - River of Life Church - Eastland, TX
September 14 - Nehemiah Fest VI - Smithville, MO
ABOUT PIONEER:
Pioneer is the story of five Midwest boys who love music. What they thought would only be a summer musical fling developed into tours during spring and winter breaks. Three years later and Pioneer (formerly known as News from Verona) touts national tours with bands like The Wedding, Wavorly and Manic Drive and festivals including Ichthus, Cornerstone and Spirit West coast. Their latest record dropped January 24, 2012, which boasts two #1 singles. Pioneer is: Josh Randolph (vocals, keys), Chad Shirrell (guitar,vocals), Dalton Meyers (guitar), Daniel Voris (drums) and Nick Berry (bass). For continual updates, logon to Facebook, Twitter and their Web site.
# # #
For more info on Pioneer visit the JFH Artists Database.