Dream Records recording artist Evan Craft, launches his sophomore album, Yo Soy Segundo on Dream Records, Tuesday September 25th, 2012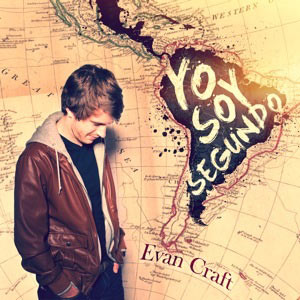 NEWS SOURCE: DREAM Records
July 24, 2012
Southern California native, Evan Craft will release his first ever spanish speaking album. The album, which is a mixture of soulful pop rock and deeply hopeful ballads is sure to excite the spanish speaking as well as english speaking fans. Coming off of a very successful album Giants, that was released this past March, Evan showed his spanish speaking skills with a bonus track entitled, "No Hay Nadie". The response from that song inspired him to release a full albums worth of new material after that. Jonathan Thulin performs guest vocals in spanish on a song called, "Solo Eres Tu" that will surely feel your spirit with hope after just one listen. His title track, "Yo Soy Segundo" will distributed through spanish radio stations both in the US and in most Latin American countries very soon but you hear it now over at www.DreamRecords.org's front page.
The 21 year old singer, who has been touring like crazy in Mexico, Spain and South America will continue to break through new channels with his fresh approach to the new genre. You can hear a few of the new tracks as well as live acoustic performances over at our YouTube account: www.youtube.com/DreamRecords
"Words cannot describe the excitement in my heart to release this album! Already seeing lives transformed in worship when the presence of the Lord descends in our worship is all that I can ask for and more! Check out the album and gift it to someone who needs to be encouraged!" - Evan Craft
"We are thrilled to partner in Evan's new venture. His heart for God's people is bar none and we hope that his music will touch as many lives as possible as he brings a whole new style of worship to his fans." - Lance Brown, Dream Records
Dream Records (www.DreamRecords.org) is quickly making a name for itself providing it's artists with a genuine approach to how real artist development should be done. By providing a partnership as a business model it's seeing it's artists empower themselves to develop and carry out a real vision for their lives as they affect other people's lives with their music and message. Incorporating social media, press, radio and touring it's allowing artist to help each by helping themselves grow together as a family.
###