TWO-TIME DOVE AWARD WINNER, MEREDITH ANDREWS, RELEASES
"NOT FOR A MOMENT (AFTER ALL)" TO RADIO JULY 27
Third Studio Album, Worth It All, Coming January 22, 2013

Harvest Bible Chapel's 40-City "Vertical Church Tour" Featuring Andrews
to Commence August 8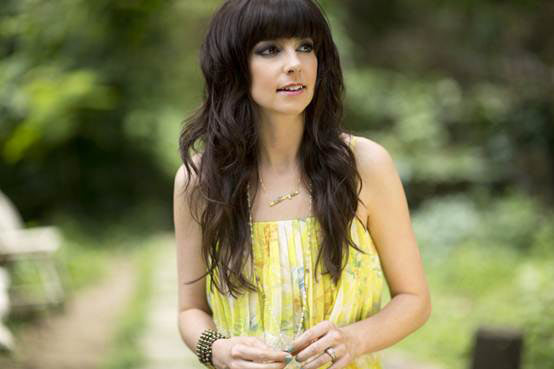 NEWS SOURCE: Warner Music Nashville
July 31, 2012
Nashville, TN - (July 31, 2012) - Word Worship's passionate and powerful vocalist, Meredith Andrews' newly released tune, "Not For A Moment (After All)," is available for purchase today at online retailers (iTunes link: http://smarturl.it/meredithandrews). The single, which is the most added song on AC radio this week, is the lead track off her upcoming album, Worth It All, due out January 22, 2013. Andrews, also a worship leader at Harvest Bible Chapel just outside of Chicago, is gearing up to join their "Vertical Church Tour" which kicks off in Minneapolis on August 8.
"When Jacob and I wrote 'Not For A Moment' with our friend Mia, we had no idea that God would use the lyrics of this song to minister to us months after we had written it," said Andrews. "The truth that He loves us and will never forsake us, even in our weakest, darkest moments, is a truth that never changes. It is always true. He is constant, good, and in control even when it's difficult to believe. I've seen first-hand the influence that truth set to music has on people's lives. I'm humbled and thankful for the opportunity to work with our friends in Christian radio who will be the catalyst for this song touching hearts and lives in ways above and beyond what it's already done in our family."
The first release from her 11-track album due out in January, "Not For A Moment (After All)," is written by Andrews, Jacob Sooter and Mia Fieldes and produced by Paul Maybury. Through this piece and the upcoming album, Worth It All, Andrews seeks to remind people of the meaning and value of "worth" and what is of greatest "worth" to them. As Andrews recently noted, "Only Jesus is worthy of it all. My life, my heart, my every breath, my authentic love, my worship. He is everything. He is Worth It All."
The "Vertical Church Tour" featuring Andrews and pastor James MacDonald, is part of the newly launched Harvest Bible Chapel platform which also comprises book, music and film projects. Throughout the tour, the accompanying album, Live Worship From Vertical Church, and book, "Vertical Church," will be co-promoted. The album features a live version of Andrews singing "Not For A Moment." For an updated list of tour dates, visit: www.verticalchurchtour.com.
With her Word Worship's debut release in 2008, Meredith Andrews' insightful songs and engaging voice awarded her recognition as Billboard Magazine's "Most Promising New Artist." In 2011, she picked up two Dove Awards for "Worship Song of the Year" and "Praise and Worship Album of the Year," quickly distinguishing her as one of the preeminent worship leaders and songwriters in the Christian music community. With the success of her debut album and her sophomore release in 2010, As Long As It Takes, she was afforded the opportunity to tour with acclaimed CCM artists Natalie Grant, Brandon Heath, Bebo Norman and Michael W. Smith. Her much-anticipated third studio album, Worth It All, is due out in January 2013. A native of Wilson, NC, Meredith began singing in church when she was only six, and by the time she was in high school, she was writing songs and leading worship. For more information on Meredith Andrews please visit www.meredithandrews.com.
About Word Entertainment
A leader in the music industry for over 60 years, Word Entertainment, a Warner/Curb company, is a unique, comprehensive entertainment company comprised of multi-faceted artist service departments including publishing, merchandising, booking, and online initiatives. Word Entertainment represents some of the top names and brands in music, including Meredith Andrews, Chris August, BarlowGirl, Francesca Battistelli, Big Daddy Weave, Jason Castro, Patrick Ryan Clark, Everfound, for KING & COUNTRY, Group 1 Crew, Dara Maclean, Point Of Grace and Sidewalk Prophets and is home to 25 Entertainment, Word Distribution (representing Curb Records and Big Idea/VeggieTales among others), Word Print, Word Music Publishing and Word Label Group's Word Records and Fervent Records.
###
For more info on Meredith Andrews visit the JFH Artists Database.