BOSTON'S ANDY NEEDHAM BAND BOWS
LIFTED HIGH SEPTEMBER 25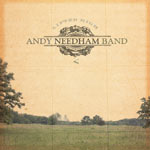 NEWS SOURCE: Turning Point
August 8, 2012
BOSTON- Popular New England-based worship ensemble, the Andy Needham Band, is poised for the release of their highly-anticipated national debut, Lifted High, September 25. Produced by GRAMMY® Award-winner Mitch Dane (Jars of Clay, Brandon Heath), the project features 10 selections, all of which were penned or co-written by frontman Needham.
Highlights of Lifted High include the debut single, "Open Arms," a buoyant, upbeat reminder of God's unfailing love; the album's lead track, "No Love Song"; "Refuge"; and the prayerful ballad "Pilgrim," among others. Additionally, the title cut-which hits a deeply personal note for the group-is a corporate worship centerpiece that has both defined the Andy Needham Band's mission and taken root in churches in New England and beyond.
"It has been our most well-known worship song for several years, traveling in the guitar cases of students and worship leaders to colleges, churches, and communities of faith around the world," Needham says of "Lifted High." "The central message of the album is summarized in the chorus: 'May the matchless name of Jesus be the anthem of our lives.' This is the heart of worship that anchors the project and the band."
"These songs are prayers of worshippers and for worshippers to connect and call on God," continues Needham. "We understand worship as a living reality, not a segment of a Sunday service. It is seeing and being awakened to God as great, glorious, and at the same time, gracious and intimate. It is how we live in abundance and heartache."
Comprised of Needham (lead vocals and guitar), Joel Rousseau (lead guitar), Jonathan Mason (bass) and Andrew Picha (drums), the band was originally formed by Needham at New Hampshire's Monadnock Camp, where he served as worship leader. Today the group performs at churches, conferences and camps, among other venues, and they also work to equip and encourage local church worship leaders via their groundbreaking Simply Worship Conferences.
For further information on the Andy Needham Band, visit www.andyneedhamband.com
###