FRANCESCA BATTISTELLI ANNOUNCES
FIRST HEADLINING TOUR,
THE "HUNDRED MORE YEARS TOUR,"
SPONSORED BY WORLD VISION
Tour Kicks Off September 20th And Will Feature
Sidewalk Prophets And Special Guests Andy Cherry And City Harbor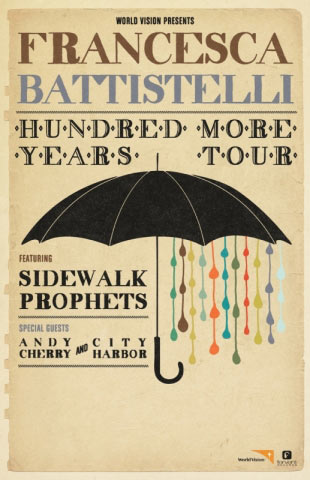 NEWS SOURCE: Merge PR
August 9, 2012
Nashville, Tenn - 9 August 2012 - GRAMMY-nominated artist Francesca Battistelli will kick off her first headlining tour, the "Hundred More Years Tour," September 20th. Sponsored by World Vision, the tour will kick off in Jackson, KY and will showcase Dove Award-winning Artist Of The Year Battistelli, as well as feature Sidewalk Prophets and special guests Andy Cherry and City Harbor. The "Hundred More Years Tour" will run through October 28th.
Concertgoers will be able to hear songs from Battistelli's hit albums, My Paper Heart and her sophomore release Hundred More Years, which debuted at No. 1 on the Christian Album chart and No. 16 on Billboard's Top 200 chart. That project's first single, "This Is The Stuff," debuted in the Top 20 on Billboard's Christian chart and Top 10 on iTunes' Christian and Gospel chart.
"I am thrilled to be announce my first headlining tour!" exclaims Francesca Battistelli. "It's been a dream for so long, and I pray that it will be a night where everyone feels the presence of God and has a great time. I'm honored to be sharing the stage with Sidewalk Prophets, Andy Cherry, and City Harbor, and I hope to see you all there!"
For more information about the tour, please click here to find out more. For tickets, please visit here to order yours today.
Hundred More Years Tour Dates:*
September
20 - Jackson, KY- Douthitt City Park
21 - Elizabethtown, KY- Severns Valley Baptist Church
22 - Springfield, IL- Prairie Capital Convention Center
23 - Springfield, TN- The Center
27 - Savannah, GA- Calvary Baptist Temple
28 - Knoxville, TN- Knoxville Christian Center
29 - Cleveland, TN- First Baptist Church Cleveland
October
5 - Pensacola, FL- Olive Baptist Church
6 - Brookhaven, MS- Old Brook Festival
12 - Evans, GA- Lady Antebellum Pavilion
13 - Brunswick, GA- Mary Ross Park
14 - North Port, FL- South Biscayne Church
20 - LaHarpe, IL- LaHarpe Community School
22 - Marshall, TX- Baker Auditorium
23 - Waco, TX- Columbus Avenue Baptist Church
26 - Bourbonnais, IL- Olivet Nazarene University
28 - North Platte, NE- North Platte Community Playhouse
*Tour dates are being added to schedule / all dates subject to change
About Francesca Battistelli
Fervent Records' Francesca Battistelli was awarded the Gospel Music Association's Artist of the Year and Female Vocalist of the Year (for the second year in a row) at the 42nd Annual Dove Awards. The accolades came on the heels of the successful release of her sophomore album, Hundred More Years, which debuted at No. 1 on the Christian Album chart and No. 16 on Billboard's Top 200 chart. Featuring the No. 1 hit single "This Is The Stuff," Hundred More Years is the follow-up to Battistelli's debut My Paper Heart, which also delivered the No. 1 single "Free To Be Me" and hits "It's Your Life," "I'm Letting Go" and "Beautiful, Beautiful." With close to 730,000 albums sold and well over 1.25 million downloads to date, Battistelli has become the best-selling new artist in the genre in the past eight years. Battistelli has earned a Grammy nomination (Best Gospel Performance), six Dove Awards and 18 Dove Award nominations. Her music has also been featured in the movie "Soul Surfer," as well as on TV, such as TLC's "Jon & Kate Plus 8," "ABC's Extreme Makeover: Home Edition," NBC's The Biggest Loser," Fox's "So You Think You Can Dance," and several other television and movie outlets. Battistelli and her husband, Matt are the proud parents to son Eli (2) and new daughter Audrey, who was born July 3rd.
Francesca's website | twitter
About Sidewalk Prophets
Sidewalk Prophets have made an impressive debut on the CCM scene, winning "New Artist of the Year" in 2010 and garnering four Dove Nominations to date, including "Pop Contemporary Song of the Year" and "Group of the Year." Produced by Ian Eskelin (Francesca Battistelli), their debut album These Simple Truths has sold more than 100,000 units and 322,000 digital tracks making Sidewalk Prophets one of the top-selling new artists of the genre. The album delivered the smash No. 1 singles "You Love Me Anyway" and "The Words I Would Say," which topped Billboard's AC/Indicator Chart for five consecutive weeks.
Sidewalk Prophets' website | twitter
About Andy Cherry
Twenty-five year-old Andy Cherry, songwriter and worship leader, hails from Charlotte, N.C. Sonically, his thoughtful, complex arrangements stitch together the warmth of American roots music with the moody tones of British rock. Lyrically, Cherry challenges commonly held assumptions about God, urging listeners to open up, be bold enough to ask God the tough questions, and believe that He has the shoulders to bear those questions.
Andy Cherry's website | twitter
About City Harbor
Hailing from Nashville, City Harbor's Josh Varnadore and Molly Reed will release their much anticipated debut album in early 2013, highlighted by their debut radio single, "Somebody Tell Them." Their songs come from a desire to know Christ and to make Christ known to the world around. As they explain, "when we see hurting people, struggling loved ones, and injustice in the world we're always thinking somebody's gotta do something but inside we know it has to start with us. All too often we miss the moment to share our faith or show love."
City Harbor's website | twitter
# # #
For more info on Francesca Battistelli visit the JFH Artists Database.