GRAMMY-NOMINATED MATTHEW WEST SET TO LAUNCH
INTO THE LIGHT TOUR FEATURING SPECIAL GUESTS
MIKESCHAIR, LINDSAY MCCAUL AND EVERFOUND
32-City Fall Tour Kicks Off Sept. 20
Coincides With Sept. 25 Release of New Studio Album, Into The Light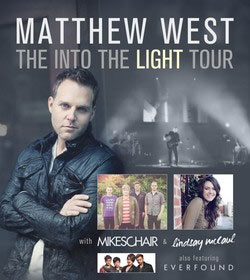 NEWS SOURCE: Southside Entertainment
September 10, 2012
NASHVILLE, TN - Sept. 7, 2012 - Two-time GRAMMY®-nominated singer-songwriter Matthew West will headline the 32-city Into The Light Tour this fall, featuring Dove-nominated pop-rockers MIKESCHAIR, critically-acclaimed female vocalist Lindsay McCaul and high-energy rock newcomers Everfound. The Into The Light Tour kicks off Sept. 20, in Lewisville, Texas, and will hit venues in major markets like Houston, TX; Denver, CO.; Lakeland, FL; Savannah, GA; and Fort Wayne, IN, among others.
The Into The Light Tour takes its name from West's brand new studio project, Into The Light, releasing the same week (Sept. 25). Inspired by letters submitted by thousands after West invited people to send in their personal stories, the songs featured on Into The Light were written mostly while West was on tour this past spring with Casting Crowns, where he played in front of more than 155,000 people. The stories he received touched on everything from drug addiction and abusive relationships to the rejection of apathy, and faith found in the waiting.
"Of all the stages in recording and releasing a new project, the one I most anticipate is the chance to play these songs for a live audience," says West. "My vision is to create an unforgettable live experience that goes even beyond the songs themselves, and beyond just entertainment. When I was a kid, there were concerts that had a profound impact on my life, and on my faith. Every time I hit the road I pray that our show can have a similar impact on the hearts and lives of all who attend."
A current list of Into The Light Tour dates is below. All dates are subject to change - please visit www.MatthewWest.com for the most up-to-date information.
ABOUT MATTHEW WEST
Lauded by The New York Times as "a vivid and compelling songwriter with impressive approaches to the familiar," two-time GRAMMY® nominee Matthew West's discography includes acclaimed releases: Happy (2003), History (2005) and Something to Say (2008). His 2010 studio album, The Story of Your Life, was inspired by 10,000 stories from every state in the U.S. and 20 countries. The album released on October 5, 2010, and garnered attention from CNN Online, Fox News, Billboard, Country Weekly, American Songwriter and more. The Story of Your Life gave West the largest street week debut of his career selling over 10,000 units the first week landing at No. 3 on Christian Soundscan, and No. 41 on the Billboard Top 200. In conjunction with Harvest House Publishers, West teamed up with bestselling author Angela Thomas for "The Story of Your Life" book. The Heart of Christmas marked West's first full-length Christmas project which also boasts the Top 10 mainstream AC radio hit "The Heart of Christmas." A multiple ASCAP "Song of the Year" winner, West has had four No. 1 radio hits including his latest GRAMMY®-nominated tune, "Strong Enough." His songwriting credits include cuts by Rascal Flatts, Billy Ray Cyrus, Diamond Rio and more. Recently nominated for a Primetime Emmy® Award for Original Music & Lyrics for "The Heart of Christmas" from the film of the same name, West's sixth studio album, Into The Light, will be released on September 25, 2012. For more information, visit www.MatthewWest.com.
ABOUT MIKESCHAIR
The sound of MIKESCHAIR demands attention. The strong delivery of their self-titled debut album MIKESCHAIR and their follow up A Beautiful Life on CURB Records both set out to entertain as well as inspire those who listen. Their unique pop sound mixed with rock guitars, electronic textures, and bass grooves blended with catchy, anthemic, sing-along choruses compel you to step up emotionally and spiritually. Their music inspires action to change the world through love. Hailing from Belmont University in Nashville, Tenn., MIKESCHAIR continues to maintain their heart for missions to work and be involved with international relief agencies such as Food for the Hungry and Buckner International, organizations that help at-risk orphans. For more information, visit www.mikeschair.com.
ABOUT LINDSAY MCCAUL
There's a phrase often heard in music industry circles: "It all begins with a song." That motto carries extra weight in Christian music where a great lyric transcends entertainment and becomes a vehicle to share the gospel. Lindsay McCaul is an artist keenly aware of words and their value. From her teen years pouring over the lyrics of her favorite music to her college days majoring in linguistics at Moody Bible Institute, McCaul's gifts manifest themselves in vibrant, insightful songs crafted with thoughtful precision reflecting a compassionate heart and deep intellect. McCaul's 11-track debut If It Leads Me Back, produced by Jason Ingram (Tenth Avenue North, Meredith Andrews), reveals considerable depth and pathos; keen songwriting paired with her shimmering voice only compels the listener deeper into the album's overall experience. If It Leads Me Back is an auspicious beginning from a talented newcomer whose music will leave a lasting impression. For more information, please visit www.LindsayMcCaul.com.
ABOUT EVERFOUND
Everfound is a rock band consisting of four Russian brothers who immigrated to the U.S. and now live in Denver, Colorado. The band has played over 800 shows in the U.S. and Europe in the last five years and has released four independent projects. The four brothers write music to challenge themselves and their generation by asking tough questions. What does it mean to daily live out your faith in a free country when people around the world are suffering? For more information, music and videos, head over to www.everfoundmusic.com.
MATTHEW WEST "Into The Light" FALL TOUR 2012
*Dates, markets and venues subject to change without notice
SEPTEMBER
20 - Lewisville, TX - First Baptist Church Lewisville
21 - Houston, TX - Grace Community Church
22 - Abilene, TX - Abilene Civic Center
23 - Artesia, NM - Artesia High School
25 - Denver, CO - Mission Hills Church
26 - Oakley, KS - Oakley High School
28 - Marion, IL - Marion Cultural and Civic Center
29 - Davenport, IA - Adler Theatre
30 - Norfolk, NE - Johnny Carson Theatre
OCTOBER
4 - Flint, MI - Central Church of the Nazarene
5 - Westerville, OH - Grace Brethren
6 - Midland, MI - Midland Evangelical Free Church
7 - Port Huron, MI - Ross Bible Church
9 - Ashland, KY - Paramount Arts Center
11 - Seekonk, MA - Faith Christian Center
13 - Essex Junction, VT - Champlain Valley Exposition
14 - Lancaster, PA - Lancaster Bible College
18 - Ocala, FL - First Baptist Church
19 - Clearwater, FL - Countryside Christian Center
20 - Lakeland, FL - Victory Church
21 - Bradenton, FL - Bayside Community Church
25 - Savannah, GA - Calvary Baptist Temple
26 - Mt. Pleasant, SC - Seacoast Church
27 - Taylors, SC - Taylors First Baptist Church
28 - Fayetteville, GA - New Hope Baptist Church
NOVEMBER
1 - Quincy, IL - TBA
3 - Jefferson, WI - Jefferson High School
4 - Springfield, IL - Sangamon Auditorium
8 - Tipp City, OH - Ginghamsburg Church
9 - Fort Wayne, IN - Auer Performance Hall
10 - Olmsted Falls, OH - Journey Community Church
11 - McMurray, PA - South Hills Bible Chapel
For more info on Matthew West visit the JFH Artists Database.