Jeremi and Amy Richardson
Debut Album, Never Let Go
Available September 18th, 2012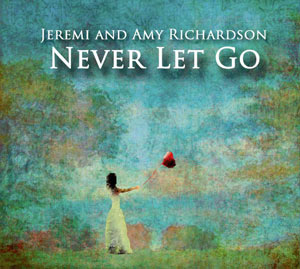 NEWS SOURCE: Jeremi and Amy Richardson
September 13, 2012
The highly anticipated debut release, Never Let Go from Jeremi and Amy Richardson will be available online, and in stores on September 18th, 2012. With songs that boast inspiring melodies and neoteric lyrics, their strong vocal performance accompanied by a compelling anointing, leaves listeners with a beautiful vision of their creator. With songs including, God Great God and It Is Finished, this album will weave you through anthems of praise and worship that reveal God's glory. Gospel Artist, LaRue Howard says of the album, "Jeremi and Amy's project releases a prophetic sound that speaks straight to the heart of true worshippers."
This power couple is no stranger to the music industry. They currently make up one half of the group, Avalon. As the new addition to the group, their latest album, Reborn has received stellar reviews stating, "Hands down, Reborn is the best album Avalon has released this decade." Jeremi and Amy have traveled the world and shared the stage with many acclaimed artists in multiple genres. On this project, Never Let Go, they give a moving presentation of lyrics, "Rock the universe, with the power of your words" on hit single, Ancient Wells. Delivering an exceptional harmonic experience on songs like Awesome, and Hallelujah, this album is the whole package. Singer/songwriter, Ricardo Sanchez expressed, "I have personally known and worked with Amy and Jeremi Richardson for over 8 years and believe that they both harbor a deep desire and passion to see people of all ages, denominations and cultures grow in the knowledge of Jesus Christ. They are some of the most talented, detailed and creative people Jennette and I have ever worked with."
Songs from Never Let Go have already been well received by Internet radio stations nationwide and have been been performed by church praise teams and choirs. Jeremi and Amy begin touring the East Coast in September, 2012. Current tour dates include September 16th in Franklin, VA, October 28th in Galax, VA and December 2nd in Zolfo Springs, FL.
"Jeremi and Amy have led our church into the heights and depths of worship! I, and our whole church, love them dearly for the godly and humble servants they are. The Spirit does something unique through their lives and their music that is exulted and consecrated. They bring us into the Throne Room and we see Jesus. Both their friendship and their leadership have brought me closer to Christ."
Dr. Joel C. Hunter, Senior Pastor
Northland - A Church Distributed