Manchild, Wit & Dre Murray, theBREAX, Heath McNease Contribute to Free EP for Racial Healing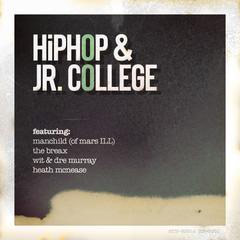 NEWS SOURCE: Seth Tower Hurd
September 19, 2012
Manchild, Wit & Dre Murray, theBREAX, Heath McNease Contribute to Free EP for Racial Healing. "To be honest, it started as a black and Latino art form, and I'm as white as white gets," says Greg "Manchild" Owens, best known from the iconic Atlanta duo Mars ILL, of his new song "Cover Up." "For the song, I touched on what race relations looked like growing up in a small southern town, and how basketball and hip hop opened the doors to befriending all kinds of people."
Manchild drew from his experiences playing basketball for "Cover Up," the lead single off Hip Hop and Jr. College, a free EP promoting a book by the same name (out September 28th). Chicago radio and TV personality Seth Tower Hurd oversaw the project.
"I got a job in Christian radio when I was 19 years old," he says. "I held back on telling this story for ten years, because I feared getting fired if I spoke up. Race and poverty are not exactly 'family friendly,' and seem to be a little too hot for Contemporary Christian Music radio to handle."
Wit & Dre Murray, theBREAX, and Heath McNease round out the track list, along with narrated interludes by Tower.
"Barack Obama and Jesse Jackson both crossed paths with stories I was living out," says Tower, whose year playing basketball on a predominately black junior college team dramatically altered his perspective. "I was there, and part of me still can't believe it happened."
Despite the appearance of two big names, the book and EP are not political works, at least in the traditional sense. "I spent ten years in the church world," Tower says. "Most Christians are deathly afraid of having open conversations about race. So I thought I might help start a few."
The EP is available now at noisetrade.com/hiphopandjrcollege
The eBook releases September 28th for 99 cents to all digital formats.
About Seth Tower Hurd:
Seth Tower Hurd is a Chicago-based writer and host of The Merge Out Loud (DIRECTV/Dish Network/Comcast). He spent ten years as a top-rated air personality on a Christian hits radio network, and three as a judge on the Emmy-winning reality TV show Inspiration Sensation.