FERVENT RECORDS' TRIO, BARLOWGIRL, TO RETIRE AFTER RELEASE OF FINAL SONG, "HOPE WILL LEAD US ON," DUE OUT OCTOBER 30
Fans will Conduct the Band's Final Interview Live Online via Ustream on
October 29 at 6 p.m. CT / 7 p.m. ET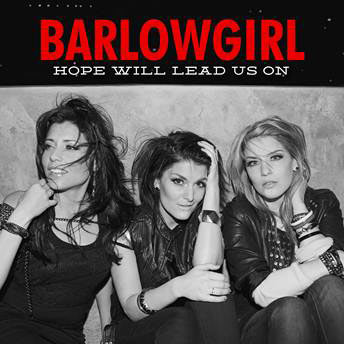 NEWS SOURCE: Word Label Group
October 24, 2012
Nashville, TN - (October 24, 2012) - Fervent Records 14-time Dove Award nominated band and best-selling new CCM artist of 2004, BarlowGirl (Alyssa, Lauren and Rebecca), are retiring after they release their final song, "Hope Will Lead Us On," on October 30. As their fans have been instrumental in their success, the sister trio want them to conduct their final interview. On October 29, live via Ustream, the band will perform a few of their hits acoustically, take questions from their fans and premiere their final song, "Hope Will Lead Us On," (Ustream link: http://www.ustream.tv/channel/barlowgirl-live).
Since releasing their self-titled debut in 2004, BarlowGirl has sold over one million albums, received 14 Dove Award nominations and accumulated four No. 1 singles on the Christian radio. Their poignant 2005 hit, "I Need You To Love Me," topped the charts for 13 weeks in 2005 making it the longest No. 1 single in Christian Hit Radio chart history. With a wonderful run, the sisters are ready to leave on a high note.
"The last 10 years as BarlowGirl has been one of the most incredible adventures we have ever been on," said Alyssa, Lauren and Rebecca. "We could not have imagined this journey without our incredible supportive fans who waited in lines to get into shows, called radio stations to play our music, watched all of our ridiculous podcasts, bought or sent us hundreds of pounds of chocolate and encouraged us the entire way. We are so honored to have shared our dream with you. Thank you for being a part of it."
On October 29, fans can log on to Ustream to submit questions. In addition, the sisters will play a few acoustic songs and will premiere "Hope Will Lead Us On" via a lyric video. The following day, their final song will be available at all digital retailers. Alyssa, Lauren and Rebecca Barlow also personally wanted to be the ones to notify their fans of their retirement. To do so, they have drafted a letter that fans can read at www.barlowgirl.com.
Since releasing their self-titled debut in 2004, Alyssa, Lauren and Rebecca Barlow have continuously inspired fans with such intimate portraits, as their sophomore set, Another Journal Entry and such bold challenges as 2007's, How Can We Be Silent. Nominated for 14 Dove Awards, the songwriting siblings have written and recorded such landmark hits as "Never Alone," which became Radio & Records' Christian Song of the Year in 2004 and helped earn BarlowGirl best-selling new Christian artist status. Their poignant hit, "I Need You to Love Me," topped the charts for thirteen weeks in 2005, making it the longest No. 1 single in Christian Radio Weekly Chart History. BarlowGirl has always represented an interesting dichotomy; tender-hearted, beautiful young women who aren't afraid to take an aggressive, almost warrior-like stance when it comes to spreading the gospel and serving God.
For additional information on BarlowGirl visit www.barlowgirl.com.
About Word Entertainment
A leader in the music industry for over 60 years, Word Entertainment, a Warner/Curb company, is a unique, comprehensive entertainment company comprised of multi-faceted artist service departments including publishing, merchandising, booking, and online initiatives. Word Entertainment represents some of the top names and brands in music, including Meredith Andrews, Chris August, BarlowGirl, Francesca Battistelli, Big Daddy Weave, Jason Castro, Patrick Ryan Clark, Everfound, for KING & COUNTRY, Group 1 Crew, Dara Maclean, Point Of Grace and Sidewalk Prophets and is home to 25 Entertainment, Word Distribution (representing Curb Records and Big Idea/VeggieTales among others), Word Print, Word Films, Word Music Publishing and Word Label Group's Word Records and Fervent Records.
For more info on BarlowGirl visit the JFH Artists Database.