MAC POWELL PERFORMS ON MARIE AIRING ON HALLMARK CHANNEL
NOVEMBER 8, 2012 AT NOON EASTERN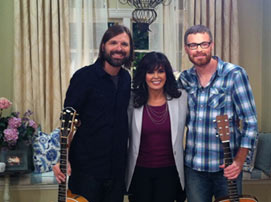 NEWS SOURCE: Webster PR
November 6, 2012
NASHVILLE, Tennessee - November 6, 2012 - Mac Powell debuts two new songs on Hallmark Channel's new talk show, Marie, hosted by international superstar Marie Osmond. Tune in Thursday, November 8 at Noon Eastern/11:00 AM CST to see Powell and guitarist/producer Jason Hoard perform "June Bug" and "Mississippi" from Mac's self-titled debut solo CD.
"What an honor to have been on the show and meet Marie Osmond," says Powell. "She is truly an American icon and no doubt, the sweet and kind, "girl next door" that you deep down really hope that she would be! After all these years in show business she is just as talented and beautiful as ever!"
Marie speaks to Mac about making the move to country music and his involvement with international charitable organization World Vision.
The country audience has truly embraced Powell and his music. GACtv.com writes, "With an emphasis on earthy acoustics and heavy Southern stomp, Mac displays a true feel for the genre with a voice that sounds like a soulful convergence of Travis Tritt and Blake Shelton." Roughstock.com writes "Powell showcases himself to be a natural country/rocker in the Travis Tritt mold." He made his Opry debut on October 20 to a packed house. He's been featured in American Songwriter, AOL's The Boot, Billboard, Yallwire.com, and FOX 17. Powell performed on The Huckabee Report, Sirius XM's "The Highway," and Rick & Bubba. Look for upcoming features in Country Weekly and Georgia Music Magazine, among others.
About Mac Powell:
Mac Powell, front man of the multi-platinum selling, four time GRAMMY and American Music Award winning rock band Third Day, releases his self-titled debut country music album on August 21, 2012. The CD features twelve songs by the #1 hit songwriter including his first single, "June Bug" which he released last month through his Twitter account (@macpowell) to his more than 91,000 followers.
For more info on Mac Powell visit the JFH Artists Database.