CROWDER UNVEILS EXCLUSIVE ITUNES® SESSION
TODAY, NOVEMBER 13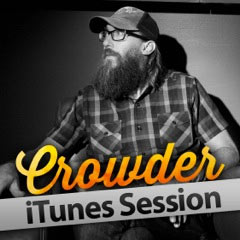 NEWS SOURCE: The M Collective
November 13, 2012
Nashville, TN - (November 13, 2012) - Today, November 13, critically acclaimed artist and songwriter David Crowder will release his first solo effort with an exclusive live iTunes® Session. Recorded at the storied Capitol Records Studio in Hollywood, Crowder: iTunes® Session delivers nine stripped down, organic tracks to many of Crowder's most loved originals. The live session includes hit songs such as "How He Loves," "O Praise Him," "No One Like You" and "Let Me Feel You Shine," as well as a brand new recording by Crowder of the classic hymn "The Old Rugged Cross," first performed at a Good Friday gathering at Passion City Church in Atlanta, GA.
In an intimate behind-the-scenes video (http://www.youtube.com/watch?v=FsYuVstkZCw), Crowder shares, "What I love about music is that a song can be in different packages or different environments, but the heart of it, the thing that connects to a person to it, is still present. For these songs to have new skin on them and have these beautiful new voices contributing to them is a really beautiful moment."
The iTunes® Session is Crowder's first project following the final David Crowder*Band release earlier this year, Give Us Rest (A Requiem Mass in C [The Happiest of All Keys]), which entered the Billboard Top 200 chart at No. 2 and gave the band their highest debut in their 12 year career.
"This session really captures the moment of letting go of the past and looking toward the future," adds Crowder. "There's a rawness and openness with the rediscovery of these songs and this project, and it makes me so excited to have you guys along on this incredible journey!"
Track Listing for Crowder: iTunes Session
1. How He Loves
2. After All
3. I Saw The Light
4. Because He Lives
5. O Praise Him
6. Old Rugged Cross
7. Open Skies
8. Let Me Feel You Shine
9. No One Like You
David Crowder has been embraced for his lyrically powerful and musically elaborate and unpredictable songs that have found themselves being sung everywhere from churches to clubs all across the country. As part of the David Crowder*Band, they were named one of the "most thoughtful, progressive and exciting acts in contemporary Christian music" by The New York Times, garnering nine Dove Awards, 22 Dove nominations and two GRAMMY nominations. The band released their final collection of new music earlier this year with the GRAMMY nominated project, Give Us Rest (A Requiem Mass in C [The Happiest of All Keys]). Continuing to perform as part of the Passion movement, participating in university student gatherings in the US and around the world, Crowder has also penned two books including his acclaimed release, "Everybody Wants to Go to Heaven, but Nobody Wants to Die."
###
For more info on Crowder visit the JFH Artists Database.