Drew Holcomb & The Neighbors
Good Light
New Studio Album Out February 26, 2013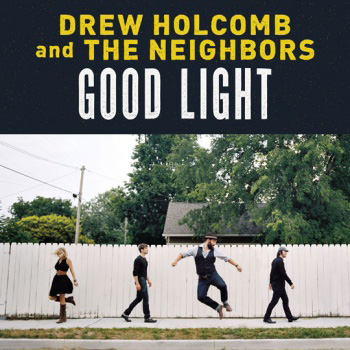 NEWS SOURCE: Bozeman Media
November 27, 2012
Nashville TN: Drew Holcomb & The Neighbors announce new studio album Good Light, set for release February 26, 2013 on Magnolia Music. Recorded live at Ardent Studios in Memphis, Good Light arrives shortly following Drew's 30th birthday and the birth of his first child, daughter Emmylou, with wife and band-mate Ellie Holcomb.
"This album perfectly tells the story of this new stage in my life," explains Drew. "I think about my daughter every time I sing the title track, how I want to sing it over her when she is old enough to start understanding the world of truth and consequence."
Good Light - Drew's fourth studio album and his third with The Neighbors - showcases his signature brand of singer/songwriter Americana in its finest form yet. "On past albums I was searching for my voice, both literally and figuratively," Drew continues. "I co-wrote a lot of songs, peppered the music with too many influences, and let too many other voices in my head."
This time around Drew dedicated himself to the process of songwriting - writing most of it alone (occasionally collaborating with his band-mates) on his 1934 Gibson Archtop. Of the 40 songs written for Good Light, 12 made the final cut.
Debut single Tennessee is currently available as a free download/stream along with a special live solo version on video. The video - shot live on location ad Drew and Ellie's Nashville home - is the first in an upcoming series of takeaway videos.
Drew Holcomb and The Neighbors are Drew Holcomb (vocals, guitar, harmonica), Ellie Holcomb (vocals, guitars), Nathan Dugger (guitar, keys), and Rich Brinsfield (bass). Since releasing his first solo album, 2005's Washed In Blue, Drew - later joined by The Neighbors (Ellie Holcomb, Nathan Dugger, Rich Brinsfield) - has established himself as a formidable indie act, selling more than 75,000 records, playing more than 1,500 live dates, selling-out headline shows, and touring alongside such varied acts as The Avett Brothers, Ryan Adams, Los Lobos, NEEDTOBREATHE, Susan Tedeschi, North Mississippi Allstars, Marc Broussard, and more. The band's songs have been used in countless television shows and commercials, most notably in TNT's Emmy Award winning 2011 NBA Forever spot (called "timeless" by Sports Illustrated and dubbed "the greatest NBA commercial of all time" by The Bleacher Report) featured their song Live Forever over a montage of past and present NBA video footage.
WWW.DREWHOLCOMB.COM - FACEBOOK.COM/DREWHOLCOMBMUSIC - @DREWHOLCOMB
###