GRAMMY AWARD WINNING
REBECCA ST. JAMES
PERFORMS AND NARRATES A CLASSIC CHRISTMAS CAROL IN NEW CHILDREN'S BOOK
"THE FRIENDLY BEASTS"
"Jesus, our Brother, kind and good,
Was humbly born in a stable rude,
And the friendly beasts around him stood,
Jesus, our Brother, kind and good."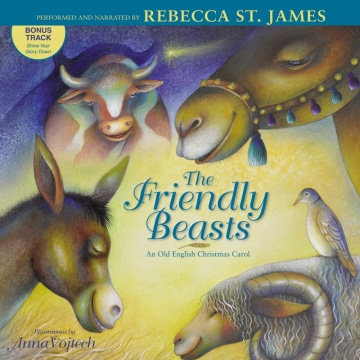 NEWS SOURCE: MorningStar PR
November 28, 2012
(Nashville, Tennessee) -- November 28, 2012 --Grammy award-winning artist Rebecca St. James has topped the Christian charts with her number one singles and has reached teens with her numerous bestselling books. Now, she is aiming her powerful voice at children as she brings new life to a beloved Christmas carol on the bonus CD that is part of a stunningly beautiful picture book illustrated by Anna Vojtech.
With singing and narration by St. James, "The Friendly Beasts" published this holiday season by Zonderkidz, pays charming tribute to the traditional Christmas carol of the same name.
The CD that accompanies the lavish art of the book in retail packaging includes four tracks performed by St. James: a musical rendition of "The Friendly Beasts," "Shine Your Glory Down," "Rebecca's Christmas Memories," and a spoken narration of "The Friendly Beasts."
Familiar to many, it tells the story of Jesus' birth from the perspective of five whimsical animals – a cow, a sheep, a camel, a donkey and a dove. The book, with pictures and song lyrics, details how each animal contributed to the nativity by providing, among other items, a wool blanket and hay for a pillow, demonstrating how each of the friendly beasts gave a personal gift from their heart to baby Jesus.
With the book an already adored tale in many homes, St. James has said it holds special meaning to her and she hopes to relay its wonderful message to young readers.
"I really hope kids who listen to this song and read this book can picture and understand what was happening around Jesus when he was born," said St. James. "It's such a beautiful scene with Mary, Joseph and the animals surrounding Jesus, celebrating him. Along with the illustrations, I think the song, the words, and the book really give you that visual picture of what it was like when Jesus was born. It's a very beautiful, very heartwarming sight."
A holiday book to be cherished, "The Friendly Beasts" illuminates the simple lyrics of this traditional carol through Vojtech's warm and vibrant illustrations, capturing the essence of the season. Accompanied by St. James' soothing vocals on CD, this heartwarming story evokes a strong sense of Christmas nostalgia that will resonate with children and create new memories for parents--this Christmas and for Christmases to come.
ABOUT THE ARTIST: Rebecca St. James is an Australian-born Christian recording artist, and both a Grammy Award winner and a multiple Dove Award recipient. She is also the bestselling author of Wait for Me, SHE Teen, and What is He Thinking. In addition, St. James has appeared in the film Sarah's Choice and lent her voice to the platinum selling VeggieTales'animated project, An Easter Carol. www.rsjames.com
ABOUT THE ILLUSTRATOR: Anna Vojtech has illustrated numerous books for children, including folktales and stories about nature. Vojtech was raised in Prague, Czechoslovakia (now the Czech Republic). She now lives in Gloucester, Massachusetts, with her husband and two sons. www.avojtech.com
Zonderkidz™, a division of Zondervan, inspires young lives through imagination and innovation. As the leader in Christian children's communications, it produces bestselling and award-winning Bibles, books, board books, graphic novels, audio, video and digital products that awaken the hearts and touch the souls of kids under 16 and the people who love them, from family members to educators. Zonderkidz is the publisher of the NIrV (New International Reader's Version) Bible translation, the third-grade reading level edition of the NIV that is ideal for children and those who speak English as a second language. Visit Zonderkidz on the Internet at www.zonderkidz.com.
Zondervan, a HarperCollins company, is headquartered in Grand Rapids, Michigan, and is a world leader in Christian communications and the leading Christian publishing brand. For more than 75 years, Zondervan has delivered transformational Christian experiences through general and academic resources authored by influential leaders and emerging voices and has been honored with more Christian Book Awards than any other publisher.
###
For more info on Rebecca St. James visit the JFH Artists Database.