JUDAH SMITH LAUNCHES JESUS IS CAMPAIGN
CROSS FAITH DIALOGUE IS AS EASY AS FILLING IN A BLANK

How One Washington Pastor is Taking His Message to the World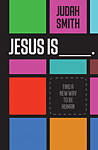 NEWS SOURCE: Rogers & Cowan
January 8, 2013
Los Angeles, Calif. (January 8, 2013) - When you imagine a thirty-four-year-old who is best friends with Masters champion Bubba Watson and skateboards with Justin Bieber, you might be surprised to hear that he's a pastor. But Judah Smith is defying the stereotypes of ministry with his unconventional outreach methods.
Three years ago, under Judah's leadership, The City Church in Seattle launched a "Jesus Is ___" sermon series and marketing campaign to get Jesus on the mind of the city and to reveal who he is. The initiative spurred inter-faith and cross-faith dialogue by utilizing billboards, bus signs, Facebook ads, bumper magnets, social outreach events, and a website-Jesus-is.org-where people could fill in the blank themselves.
One thing became abundantly clear. . . Jesus gets a reaction out of people. The response to this opportunity for open dialogue was overwhelming. Perusing the website provides a fascinating commentary on our culture's concept of Jesus. Many submissions, of course, are pro-Jesus. Others are simply funny and bizarre. Many are blatantly anti-Jesus: they are blasphemous, hateful, and even perverse. The website's pages have been viewed over one and a half million times, and has had seventy-five thousand people-and counting-submit answers to the blank. And the campaign has been mentioned on atheist, porn, and church websites alike, also catching the eye of would-be hackers multiple times.
"Christians often come across as not being interested in what others have to say, and even as uninteresting to the general public. But as a Christian pastor, I want to push the envelope. I want to have genuine conversations with all people, listen to what others believe and have to say, respond to their questions, and take time to understand why they feel the way that they do," says Judah. "I want to encourage people to build bridges, have an open ear, and take interest in what others say."
Now, Judah Smith and the campaign are taking their next step in continuing the conversation with the release of Jesus Is ___.: Find a New Way to Be Human, a book and DVD-based study slated for simultaneous release in February 2013 from Thomas Nelson, Inc. There's even a CD inspired by the campaign that was released by The City Church in October.
Within its pages, Judah Smith digs deep to answer the most common and difficult questions about Jesus, one of history's most famous but least understood figures. He explores a number of topics that reveal Jesus' purpose for coming, what he accomplished while he was on Earth, and what that means for those who came after. Jesus is greatly revered, harshly criticized, sorely misunderstood, and often misrepresented. Judah breaks down who Jesus is and explains to readers how understanding that more fully will both enrich and bring greater meaning to their lives.
Jesus Is ___ leads readers toward a deeper, lasting relationship with Jesus, encouraging them to know him and grow in him. Judah wants everyone to know that Jesus is more than a good teacher and an inspiring leader. He is the point of all life.
By presenting the Bible in a down-to-earth style, often paraphrasing Bible narratives with a good dose of humor, Judah has written the book for real people facing real issues. His message of simple faith and grace is just as powerful for lifelong Christians as it is for those who have never heard the gospel.
"I think this book makes sense even if you don't believe it, so it would be great if you approached it with an open mind," notes Judah. "None of us has the whole truth, including me, but we can learn from each other."
"My goal in this book is to help people see the irresistible Jesus for who he really is and to understand what that means for their life. If certain topics in this book strike a chord with them, I encourage them to respond. That might mean getting connected to a church near them that will help them grow in Jesus, slowing down and spending more time letting Jesus love them, or making some changes in their lifestyle," says Judah. "No matter what they might have done or who they are, it's never too late for grace. And although it may sound too good to be true, salvation is a free gift. We don't need to clean up our act, make a sacrifice, or pay for our sins before we approach God. We receive forgiveness by faith, which simply means we choose to believe that Jesus died in our place."
Judah adds that "I can't think of a better mission in life. I'll probably write more books, but I doubt I will ever write one as important as this. At the same time, this book barely scratches the surface of who Jesus is. Discovering the depths of his love has become my obsession, my passion, and my delight."
Judah Smith and his wife, Chelsea, are the lead pastors of The City Church in Seattle, Washington. They were youth ministry pastors for ten years-ranked as one of the top five "most dynamic" youth groups in the country by Ministry Today-before stepping into their new role in 2009. Outreach has recognized City Church as being one of the fastest growing churches in the country. It has four satellite locations orbiting the Seattle, WA metropolitan area. Judah is in high demand as speaker, both in the U.S. and abroad, is the author of several books including Jesus Is ___., and is a popular voice on Twitter (@judahsmith). Judah and Chelsea have three children: Zion, Eliott, and Grace.
Trade Paper ISBN: 9781400204755
E-Book Download ISBN: 9781400204762
Both Formats: $16.99
Available Feb. 26, 2013
From Thomas Nelson, Inc.