New Radio Show Targeted to Christian Artists Debuts
Matt Tommey and Pattie Ann Hale Inspire Artists on New Weekly Radio Program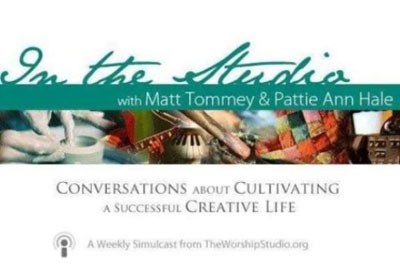 NEWS SOURCE: Providence PR
January 9, 2013
ASHEVILLE, N.C. (January 8, 2013) - An exciting new radio show for artists and "kingdom creatives" of every type, called "In the Studio with Matt Tommey and Pattie Ann Hale: Conversations about Cultivating a Successful Creative Life" is hitting the airwaves. The show, which just debuted in December is heard Mondays at 12 noon EST on Asheville NC's 95.7 FM, WNGW The Choice, and is available to listeners nationally and internationally via the internet on Ustream. Listeners from around the world are encouraged to join these internationally recognized artists as they cover topics ranging from awakening the creative spirit to making money with your art.
Matt Tommey, Executive Director of The Worship Studio, Worship Pastor, award winning visual artist, musician and author and Pattie Ann Hale, a noted painter and mixed media artist are once again expanding their outreach to Christian artists through the innovative new show. Matt, who is a frequent guest on TV and other radio programs, and who speaks internationally in a variety of venues also shares an art studio with Pattie Ann Hale called "River Oaks" in the heart of Asheville N.C.'s River Arts District. "River Oaks" is the home of a thriving creative community in the region where artists gather each week to discuss life, art and faith as well as a gathering place for music jams, creative events, seminars and workshops.
Matt is the author of the acclaimed book, Unlocking the Heart of the Artist, and Pattie and Matt together have co-written Unlocking the Heart of the Artist Experience Guide. They lead an international ministry for artists of all genres called The Worship Studio, which helps artists and artistic people to grow and be successful in the areas of artistic expression, business, wholeness, and community. Kingdom minded artists internationally connect on The Worship Studio's thriving facebook page: http://www.facebook.com/home.php#!/groups/95224191804/.
The Worship Studio also hosts conferences including the upcoming Prophetic Creativity Retreat (http://www.theworshipstudio.org/prophetic-creativity-retreat-2/) for artists and musicians Feburary 21-24 2012 in Black Mountain, NC at the scenic YMCA Blue Ridge Assembly featuring noted worship leaders Ray Hughes and Brian and Ramey Whalen as well as Tommey and Hale. Other events planned for 2013 include an Unlocking the Heart of the Artist Retreat in March, a Fine Craft Intensive in May, the annual flagship conference, Gathering of Artisans, attended by hundreds of artists from across the US and other nations in September, and a new international Gathering of Artisans to be held in Scotland later on in 2013.
"We want artists to listen to our weekly radio programs and come away with not only inspiration, but real-life tools they can use to be successful in every area of their lives as creatives." states Matt.
Matt and Pattie will present relevant topics each week on such issues as the creative process, the need for community in the life of the artist, overcoming artist block, how to thrive in the creative arts business, and how to combine creativity and faith. Listeners will enjoy lively discussion, question and answer segments, visits by guest artists and musicians and occaisionally a project or challenge to utitlize in their own life.
The program can be enjoyed via local radio in Asheville, NC at 95.7 FM or online at http://www.957thechoice.com/ or http://www.ustream.tv/channel/the-choice=95-7-live1. The show will air live at 12 Noon EST or via archived video at the the ustream link or at The Worship Studio website at www.TheWorshipStudio.org.
Matt Tommey, is a visual artist, author, musician. He is the founder of The Worship Studio and serves as it's Executive Director and Visionary. His work centers around encouraging and equipping artists to be all that God has designed them for in the Kingdom. He is now the host of the new radio program "In the Studio with Matt Tommey and Pattie Ann Hale."
Pattie Ann Hale is a renowned fine artist, Associate Director of the The Worship Studio, co-author of Unlocking the Heart of the Artist Experience Guide, and co-host of the new radio show "In the Studio with Matt Tommey and Pattie Ann Hale."