SKILLETíS AWAKE CERTIFIED PLATINUM; ONLY ACTIVE ROCK BAND TO GO PLATINUM IN 2012
SKILLET JOIN MUMFORD & SONS AND BLACK KEYS AS ONLY 3 ROCK BANDS TO GO PLATINUM IN 2012

GRAMMY NOMINEES CURRENTLY RECORDING FOLLOW-UP WITH PRODUCER HOWARD BENSON (MY CHEMICAL ROMANCE, MOTORHEAD, ALL AMERICAN REJECTS); ALBUM DUE SPRING 2013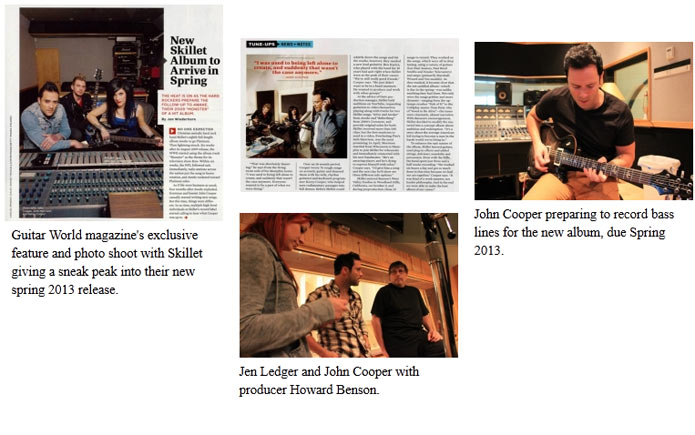 NEWS SOURCE: The M Collective
January 24, 2013
Nashville, TN - January 25, 2013 - Talk about starting the year on a high note: two-time Grammyģ-nominated rock band SKILLET were in the studio putting the finishing touches on their highly anticipated new album when they received the great news that their most recent release, Awake (Atlantic/Ardent/INO), has just been certified platinum for sales in excess of one million copies in the US. It's worth noting that Skillet was the only active rock band to achieve platinum certification in 2012, and were one of only three rock bands (the other two being Mumford & Sons and the Black Keys) to strike platinum in 2012.
"We are so proud of Skillet for this crowning achievement," stated Craig Kallman, Chairman/CEO of Atlantic Records and Julie Greenwald, Chairman/COO of Atlantic Records. "The band is hard at work finishing up their incredible new album which we can't wait for the world to hear this Spring."
Currently Skillet is putting the finishing touches on their highly anticipated new album, which is set for release in spring 2013 on Atlantic/Word (album title TBA). The band (singer/bassist John Cooper, guitarist/keyboardist Korey Cooper, drummer Jen Ledger and guitarist Seth Morrison) is recording in Los Angeles, where they've re-teamed with producer Howard Benson (My Chemical Romance, Motorhead, All American Rejects), who helmed 2009's platinum-selling album, Awake (Atlantic/Ardent/INO).
Giving a bit of a sneak peak into what the record is sounding like, lead vocalist John Cooper says that "Musically, this record feels like a roller coaster ride. Several tracks are aggressive with dirtier and edgier guitars. Korey's keyboards are extremely unique and Jen's great vocals are showcased throughout the album. There are some powerful anthems and what our fans tend to love, the "signature Skillet" songs: symphonic, classical rock duets."
Also previewing the album this month is Guitar World, with an exclusive 2-page feature (see attached photos) and photo shoot as well as CCM Magazine with their "In the Studio" and "Gear Guide" features.
Awake was a blockbuster release for Skillet, debuting at No. 2 on Billboard's Top 200 Album Chart and No. 1 on the magazine's Top Modern Rock/Alternative Albums Chart. In addition, the record hit No. 1 on iTunes' Top Album Chart, garnered 3 Billboard Music Awards and spawned four hit singles including the No. 1 Active Rock smash "Awake & Alive," as well as "Hero," "It's Not Me It's You" and "Monster." "Monster" lived up to its name, selling more than a million copies and hitting Top 5 at Active Rock radio, while its companion video has generated over 47 million YouTube views. The hook-happy "Hero" was featured in season-long spots for NBC's NFL Sunday Night Football and served as the official theme song for WWE's Royal Rumble Pay-Per-View. The band toured endlessly in support, playing to sold-out crowds across the country, which earned them a spot on Pollstar's Concert Pulse Chart of the Top 50 Tours for fall of 2010. Awake followed the band's 2006's gold-selling album, Comatose.
In other words, it was business as usual for the quartet, who over the course of the past few years have sold more than two million units in the U.S. alone, racked up more than 150 million YouTube views and amassed a diehard following (dubbed Panheads) whose members number in the millions.
[Get connected with Skillet]
Website: www.skillet.com
Facebook: www.facebook.com/skillet
Twitter: @skilletmusic
###
For more info on Skillet visit the JFH Artists Database.