FRANCESCA BATTISTELLI'S NEW SINGLE "STRANGELY DIM,"
FROM UPCOMING HUNDRED MORE YEARS DELUXE EDITION,
AVAILABLE NOW
Second Leg of "Hundred More Years Tour" Launches March 7 in Toronto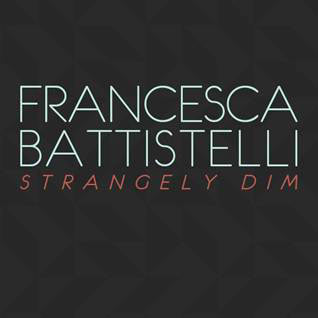 NEWS SOURCE: Word Records
February 5, 2013
Nashville, TN - (February 5, 2013) - 2011 Dove Awards' "Artist of the Year," Francesca Battistelli, released her brand new single, "Strangely Dim," from her Hundred More Years Deluxe Edition album today to iTunes. Written by Battistelli, Seth Mosely and Mia Fields, the track features inspiring lyrics fused with her distinctive pop/soul sound. The full album, featuring "Strangely Dim" and four additional new songs, will be made available for purchase on March 12. On March 7, the second leg of her "Hundred More Years Tour" commences in Toronto with special guests The Afters and Kyle Sherman.
Produced by Ian Eskelin and Seth Mosely, "Strangely Dim" has already made a huge splash at radio with 47 first week radio adds. "I love this song because it reminds me daily that God is the source of my peace, and even when things are chaotic all around me, He is in control," commented Battistelli. "Yielding our lives and our desire for control to Him brings a peace that makes our doubts and fear fade away." She is giving her fans an opportunity to listen to the full track on her website at www.francescamusic.com.
Battistelli's "Hundred More Years Tour" is scheduled to hit over 20 cities from March 7 through May 5. Upcoming tour dates include:
March 7 Global Kingdom Ministries - Toronto, Canada
March 8 Rockway Mennonite Collegiate - Kitchener, Canada
March 9 Glad Tidings Church - Sudbury, Canada
March 10 Community Pentecostal Church - Ottawa, Canada
March 21 Hillside Christian Church Amarillo - Amarillo, TX
March 22 Harral Memorial Auditorium - Plainview, TX
March 23 Breckenridge Event Center - Edna, TX
March 28 Marantha Church - Decatur, IL
April 5 Emmanuel Christian Center - Spring Lake Park, MN
April 6 First Assembly of God - Fort Wayne, IN
April 12 Cornerstone Church - East Longmeadow, MA
April 13 Charleston Church - Charleston, ME
April 14 Goodwill Church - Montgomery, NY
April 20 Chapelgate Presbyterian Church - Marriottsville, MD
April 21 Mooresville High School - Mooresville, NC
April 26 Fox River Christian Church - Waukesha, WI
April 27 High Point Church - Madison, WI
May 5 Bellefontaine HS Auditorium - Bellefontaine, OH
For more information on Francesca Battistelli and to purchase tickets, please visit www.francescamusic.com.
Facebook: https://www.facebook.com/francescabattistelli
Twitter: https://twitter.com/francescamusic
YouTube: http://www.youtube.com/francescabattistelli
Since her debut in 2008, Francesca Battistelli has earned a Grammy nomination (Best Gospel Performance), six Dove Awards including 2011 "Artist of the Year" and 19 Dove Award nominations. Both her debut album, My Paper Heart (which was certified gold this past summer), and her 2011 sophomore release, Hundred More Years, took the No. 1 spot on Billboard's Christian Album chart. With over 700,000 in album sales to date, she is the best-selling new artist in the genre in the past eight years. Her music has also been featured on TLC's Jon & Kate Plus 8, ABC's Extreme Makeover: Home Edition, NBC's The Biggest Loser, Fox's So You Think You Can Dance, and several other television and movie outlets.
About Word Entertainment
A leader in the music industry for over 60 years, Word Entertainment, a Warner/Curb company, is a unique, comprehensive entertainment company comprised of multi-faceted artist service departments including publishing, merchandising, booking, and online initiatives. Word Entertainment represents some of the top names and brands in music, including Meredith Andrews, Chris August, BarlowGirl, Francesca Battistelli, Big Daddy Weave, Jason Castro, Patrick Ryan Clark, Everfound, for KING & COUNTRY, Group 1 Crew, Love & The Outcome, Dara Maclean, Point Of Grace and Sidewalk Prophets and is home to 25 Entertainment, Word Distribution (representing Curb Records and Big Idea/VeggieTales among others), Word Print, Word Films, Word Music Publishing and Word Label Group's Word Records, Word Worship and Fervent Records.
# # #
For more info on Francesca Battistelli visit the JFH Artists Database.