Generation Unleashed Conference Draws Capacity Crowd During First Weekend Featuring Portland-Based Worship Team BRIDGECITY
Second Weekend Of Conference Held February 7-9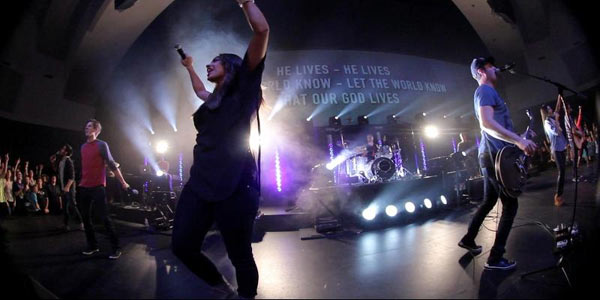 NEWS SOURCE: TKO Marketing
February 7, 2013
LOS ANGELES (February 7, 2013) - Generation Unleashed 2013, one of the nation's largest annual youth and young adult conferences in the northwest, just wrapped its first of two weekends at City Bible Church in Portland, Ore. Attendance was at capacity in the 3,000 seat main sanctuary where BRIDGECITY lead worship and guest speakers were featured during the three- day conference.
"The overall atmosphere for the first of two weekends of the Generation Unleashed Conference was off the charts because people showed up so hungry for the presence of God," said Jeremy Scott, City Bible Church in Portland, Ore. "It always amazes me what God does through worship. We're expecting this coming weekend of the conference to be at another level."
Speakers during the Generation Unleashed Conference include Judah Smith, Chris Hill, Rich Wilkerson Jr., Chad Veach, and Chris Durso. With BRIDGECITY leading worship and singing songs from their self-titled debut CD, the standout worship songs for the conference included "It's All Because," "Forgiven," and "Beyond Wonder and Joy."
The second weekend of the Generation Unleashed Conference begins February 7 through February 9 at City Bible Church in Portland, Ore.
For more information on Generation Unleashed, visit GenerationUnleashed.com.
ABOUT BRIDGECITY: BRIDGECITY is a creative community comprised of songwriters & musicians based out of Portland, Oregon. With a heart for the church and a passion to see people encounter God through worship, the songs of BRIDGECITY were written for the purpose of impacting the church at large. For more information on BRIDGECITY, visit Bridgecity.tv.
ABOUT MARANATHA! MUSIC:
Since 1971, Maranatha! Music has been creating life-changing music and ministry resources for the body of Christ. The company's passion for the lost was the driving force behind the development of the best-selling The Invitation CD series featuring Rick Warren, Beth Moore, Kay Warren and John Baker. Not only has the series sold over 2 million copies to date, but thousands of lives have been impacted by the salvation message of Jesus. Maranatha! Music is a pioneer in praise and worship music publishing. Best known for the Invitation Series, Praise Series, Praise Band Series, and Top 25 Series, Maranatha! Music has sold more than 30 million records and changed lives worldwide. For more information, visit MaranathaMusic.com.
# # #