Centricity Publishing's CentricSongs Sweeps SESAC Christian Music Awards With 16 Wins That Includes 13 Singles And 3 #1 Songs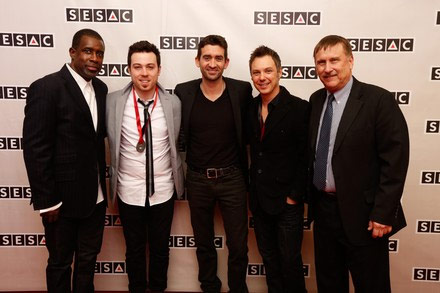 Left To Right: Trevor Gale, Senior Vice President, Writer/Publisher Relations, SESAC; Seth Mosley, CentricSongs award-winning songwriter; Centricity Music artist, Aaron Shust; Steve Rice, Vice President, Centricity Publishing CentricSongs; John Mullins, Senior Director, Writer Publisher Relations, SESAC
NEWS SOURCE: Bozeman Media
March 7, 2013
Nashville, TN (March 7, 2013) ----- It was an incredible evening for Centricity Publishing's CentricSongs at the recent SESAC Christian Music Awards. The company won 16 awards, with Seth Mosley being honored with 12 National Performance Activity Awards and 2 awards for #1 Billboard Song for All Things Possible, recorded by Mark Schultz and Fighter, recorded by Manafest. Resuscitate Me garnered David Zach, frontman for Remedy Drive, an award for #1 Billboard Song and his second win for National Performance Activity Award. A complete listing of winners is available online at http://www.facebook.com/notes/centricity-music-publishing/2013-sesac-christian-awards/490895130973276.
"At last year's SESAC Awards I had just joined Centricity Publishing and said at the time that I could not have been more proud of our songwriters," says Rice. "Little did I know then how hard they would work in 2012. With their exceptional talent and diligence, we tripled our number of radio singles in one year, bringing home a total of 16 awards for Centricity Publishing! It was truly an amazing and memorable night. But more than that, I am blessed to be able to work alongside guys like David, Seth and Aaron, and am grateful each day for the way they pour over their melodies and lyrics to make enjoyable and life-changing music for their listeners."
"2012 was an amazing year!," exclaims Mosley. "I signed a new publishing deal with the best company - Centricity Music, wrote and produced over 100 songs, and transitioned from the artist role to full-time in the studio. I can't say how helpful SESAC has been to me and my wife over the past few years, and has such a priority to support Christian Music. This team I have around me is world class and shares my vision for the power of music when it's combined with the Gospel. Here's to another great year of sharing Jesus's love story through songs."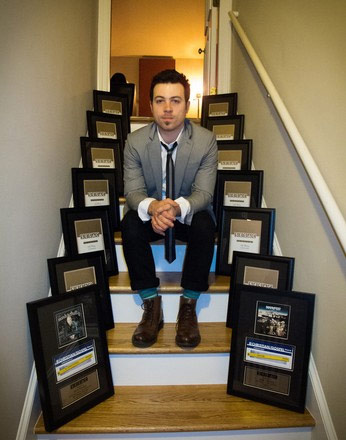 Besides the record-breaking SESAC wins, highlights of the evening for CentricSongs included Centricity Music's Aaron Shust presenting awards for three songs, including an award to co-writer Seth Mosley for his single, We Are Free. It was also a special moment when Mark Schultz performed his #1 single that was co-written by Mosley, All Things Possible.
About Centricity Publishing
Launched in 2005, Centricity Publishing has quickly become a key player in the world of Christian song publishing. The division of Centricity Music has placed songs in film, television and advertising that include; Target, Veggie Tales, One Tree Hill, Jane by Design, NFL Network and more. Centricity Publishing has also expanded their writer roster to include such notable songwriters as Seth Mosley, Sam Mizell, Brad Rempel, James Tealy and others, along with the popular artists/ writers on the Centricity Music label, including radio favorites Jason Gray, Aaron Shust, Unspoken and others. This successful publishing company has enjoyed radio chart success with several top songs including the iTunes "Best of 2012" Christian Single, "Who You Are" (Unspoken), the Billboard Top 40 Country single, "Love You For A Long Time" (High Valley), and numerous other Christian radio chart-topping singles including, "Good To Be Alive" (Jason Gray), "You Are I Am" (Mercy Me), "All Things Possible" (Mark Schultz), "Words" (Hawk Nelson), "We Are" (Kari Jobe), "Born Again" (Newsboys), and others.
####