TUNE IN to Watch Owl City & Yuna Perform "Shine Your Way" on The Tonight Show with Jay Leno -- Thursday, March 14th on NBC® 11:35/10:35c pm
"Shine Your Way" Premiered on Idolator Monday, March 4th

Song Officially out March 19th on the Original Motion Picture Soundtrack from DreamWorks Animation's The Croods Available via Relativity Music Group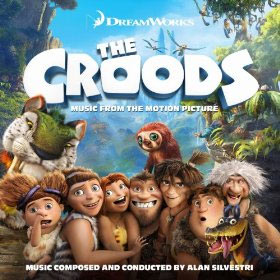 NEWS SOURCE: Stunt Co.
March 12, 2013
New York, NY -- On Thursday, March 14th, multi-platinum recording artist Owl City will be joined by Verve Records' artist Yuna for a one-time only live performance of "Shine Your Way" on The Tonight Show with Jay Leno on NBC® at 11:35/10:35c pm. The original song, which premiered on Monday March 4th on Idolator, was written especially for the new DreamWorks Animated film The Croods by two-time Academy Award® nominated composer Alan Silvestri along with Glen Ballard and the film's directors, Kirk DeMicco and Chris Sanders and was produced by Owl City alongside Silvestri and Ballard. Relativity Music Group is set to release the Original Motion Picture Soundtrack from The Croods on Tuesday, March 19th, three days before the film officially opens in theaters.
This is not the first time Owl City has lent his talents to a movie soundtrack. In September 2010, he wrote "To The Sky" as the theme song for Village Roadshow Pictures/Animal Logic film The Legend of The Guardians: The Owls of Ga'Hoole and just this past fall he wrote "When Can I See You Again?" for the Disney/Pixar hit Wreck-It Ralph. Last month his song "Shooting Star" from his latest full length studio album The Midsummer Station (Republic Records) was one of the songs Rainmaker Entertainment chose for their Escape From Planet Earth Soundtrack and movie trailers. They also created a music video with film footage and the song.
The Croods and "Shine Your Way" is the latest film contribution for Owl City, who is currently on a US tour with Maroon 5 and Neon Trees in support of The Midsummer Station. The tour hits LA's Staples Center on March 15th and continues through mid-April. Owl City is making a quick stop at The Tonight Show with Jay Leno the day before to perform "Shine Your Way" with the incredibly talented Yuna for this one-time very special TV appearance. Tune in to NBC on March 14th to watch! For the most up to date information and tour dates on Owl City, please visit www.owlcitymusic.com.
####
For more info on Owl City visit the JFH Artists Database.