WINTER JAM TO WRAP RECORD-BREAKING TOUR WITH
LIVE ONLINE FINALE MARCH 30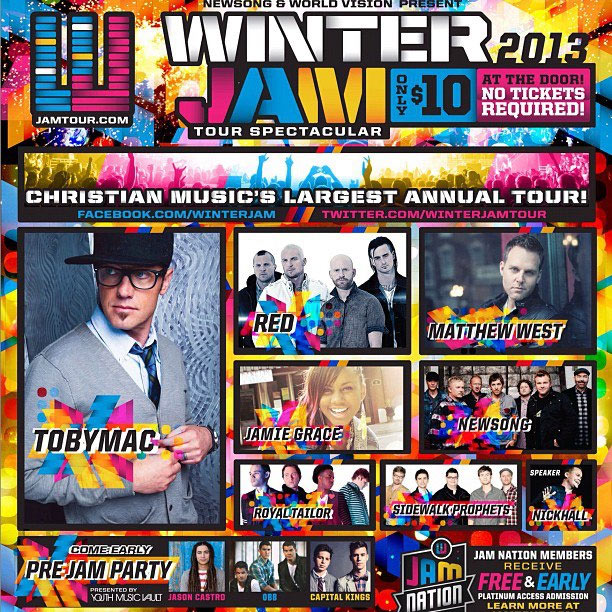 NEWS SOURCE: Turning Point PR
March 13, 2013
NASHVILLE, Tenn.-Concluding its record-breaking 18th year Saturday, March 30, at San Antonio's AT&T Center, the internationally top-ranked Winter Jam Tour Spectacular is giving fans around the world an opportunity to experience the event live. In partnership with Blue Scout Media, Winter Jam is offering a "free pass" for online viewers to live-stream the unprecedented tour's season finale at www.stagehop.com.
Founded and hosted by GRAMMY®-nominated NewSong, the Winter Jam 2013 Tour Spectacular is headlined by GRAMMY®-winning, multi-platinum recording artist TobyMac and also features RED, Matthew West, Jamie Grace, Sidewalk Prophets and Royal Tailor, with a message from national speaker Nick Hall. In addition, Winter Jam's Youth Music Vault Pre-Jam Party includes performances from Jason Castro, OBB and Capital Kings. ? ?
"Winter Jam is a live concert like none other, and Blue Scout Media is honored to work with this show to bring a great online experience to thousands of music fans around the world," said Jay Powers, Blue Scout Media President and CEO. "We see this as an opportunity to promote Winter Jam and our StageHop platform while presenting a Christian message that reaches far beyond the walls of an arena."
This year's 44-city tour kicked-off January 4 and has seen 32 sellouts to date, including capacity audiences at such venues as the Tampa Bay Times Forum in Tampa, Florida; Columbus, Ohio's Schottenstein Center; and Charlotte, North Carolina's Time Warner Cable Arena.
Winter Jam has been the #1 tour in the world (first quarter) for the last two consecutive years, based on attendance, according to Pollstar's 2012 Worldwide First Quarter Ticket Sales Charts - Top 100 Tours. Created by NewSong in 1995, the tour has consistently featured the genre's biggest names, introducing Christian music to new audiences across the country while providing a powerful platform for the Gospel message.
A subsidiary of Texas-based Blue Scout Media, StageHop's streaming platform features high-definition video with the highest-quality audio, in an online venue where the viewer can choose from many different camera views throughout the live concert. Home audiences will be immersed in this unique concert experience.
Registration is now open at www.stagehop.com/winterjam for the March 30 Winter Jam 2013 Tour Spectacular live online finale. The event begins at 6 pm CT and is free for all online viewers.
For further information, visit www.jamtour.com, www.bluescoutmedia.com, www.stagehop.com