B IT CLOTHING AND NOTW HAVE PARTNERED FOR THE NEW
CO-BRAND "B NOT OF THIS WORLD" AVAILABLE NOW

NEWS SOURCE: Merge PR
March 19, 2013
NASHVILLE, TENN. – March 19, 2013 –B IT Clothing and NOTW have announced their newest Christian fashion line "B Not Of This World" (B NOTW), which is available now. B NOTW is a collaboration that goes beyond fashion. The clothing line is based off of Joshua 1:9 and is worn by a generation that chooses to B Not Of This World.
"The combination of an action step (by being) and what God tells us we are (Not of This World) comes together to create a movement to challenge people to B Not of This World," explains B IT Clothing founder B Haley. "This movement has pivotal principles that remind people to B all they were created to B."
The B NOTW line is a fashion-forward, bright line of five men's designs and three women's t-shirt and tank designs. Each design encourages people to B who they are, B Beautiful, B Not Of This World and Just B IT.
The new B NOTW logo is a circular logo with a period in the middle of the circle. Haley shares the thought process behind the logo, "We are to B Strong and B Courageous. This combined with one's faith, hope, and love works together to create the action of believing. The period in the middle of the circle in the logo is the action point that holds all of this together. Acting in these ways allows you to experience Heaven here on earth."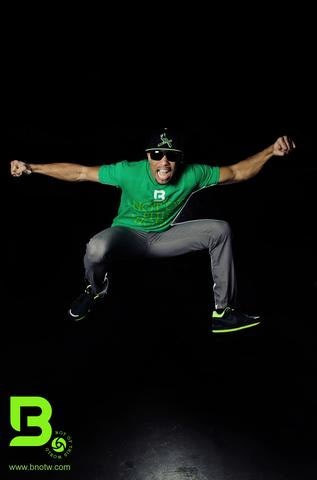 Combining B's line with the high-profile Christian brand Not Of This World is a recipe for success. In 2010, the two companies worked together for the launch of the B IT line, which went on to be one of NOTW top-selling lines. This time around, Haley wanted to changed things up a bit in order to create a stronger marriage and action step, thus creating B NOTW.
"Not Of This World is blessed to partner our drummer friend B Haley," shares NOTW clothing founder Aurelio Barreto. "B has a great heart for the Lord and a passion for encouraging others. NOTW and B IT Clothing have teamed up to design a very fresh and inspiring clothing line that we are excited about. We can't wait to see how the movement impacts the people for the Lord."
The B in B IT Clothing and now in B NOTW comes not only from the founder's name, but is the definition of "be" – as a verb it shows action. "In researching the definition of the word 'be,' God reminded me of one of my favorite scriptures Joshua 1:9. It is becoming whatever you're claiming. When you tell people to B, you are essentially telling them to ACT, once you act you become and that is what B IT is all about. It's you becoming your 'it.'"
Click here to see and purchase the complete B NOTW collection. Join the Movement, B the Movement, B Not of This World.
- ### -
CONNECT WITH B IT:
Facebook | Twitter