Above The Golden State Launches Kickstarter To Fund New Worship Album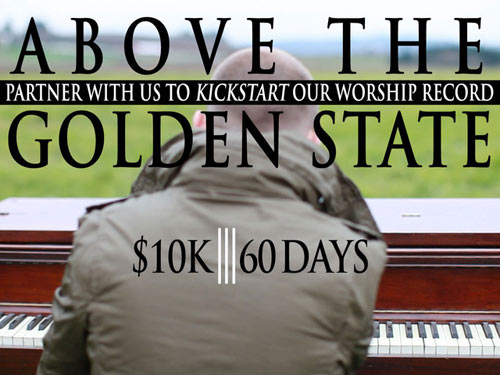 NEWS SOURCE: Above The Golden State / Jesusfreakhideout.com
March 26, 2013
On Friday, former Sparrow Records act Above The Golden State launched a new Kickstarter campaign to fund a forthcoming worship project, asking for just $10,000 in 60 days. Check out the details below and visit their Kickstarter campaign page to chip in!
10k in 60 days! Join Above The Golden State to complete the NEW Worship Album.

Creator and creativity
Creating music that will glorify Jesus- the Creator of music... giving a voice for this generation to worship Him!

If you've followed Above The Golden State's music you know my priorities: love Jesus, love others, serve the church and make creative music that reflects The Creator. I'm so thankful to have had this opportunity in life. Thankful for people like you!

Worship and voice Worship album? I've never made an album like this. The melodies, the lyrics, the sounds, the arrangements... it's more powerful, more creative, more relevant, and more revealing of the God who is LOVE! I believe these songs will spark a new voice for the church to glorify Jesus. I started this album about a year ago... it's so close to being finished. Please join me by helping get these songs to the church and the world... and YOU!

"My heart is fixed, O God, my heart is steadfast and confident! I will sing and make melody. Awake, my glory, my inner self; awake, harp and lyre! I will awake right early, I will awaken the dawn! I will praise and give thanks to You..." Psalm 57:7-8

Risks and challenges Learn about accountability on Kickstarter
To complete this project I've taken a few risks as mentioned in the video.

The amount of time, energy, prayer and thought put into these songs (even before going to record them) has already grown beyond measure. I've poured all of myself, heart, soul and mind into these melodies and lyrics. Being as sincere and Spirit-led as I know possible, in order to faithfully serve the Church with the gifts God has given me. My example and inspiration being from God Himself, who has given His all to show us love.

Additionally, I'm no longer working with the record label, which has its ups a downs- the success of this album will rely solely on the creativity and message of the songs, not on radio play, sales, marketing, number of daily Tweets or the overall "sex appeal" of selling an artist. If God wants to use this music for His glory... it could very well involve YOU!

The challenge moving forward will be finding ways to get these songs to those who need to hear them. This may involve some level of promotion combined with the skills and resources of others who believe in the project, for example- Steve Wilson who produced this album for the lowest cost manageable and gave countless hours of free time to insure that it sounds amazing! Tyler Gould- who helped make the video for free on a cloudy afternoon. My buddy Dave who helped lift the pipe organ our of my car. I'm excited to see this list of examples continue to grow...
http://www.kickstarter.com/projects/2016624139/above-the-golden-state-worship-album?ref=live
For more info on Above The Golden State visit the JFH Artists Database.