Steve Hare debuts his new single, "A Heart Like Your Own"
Steve Hare reveals cover art, track listing and debuts his first single off his upcoming album, Heart Like Your Own now available on iTunes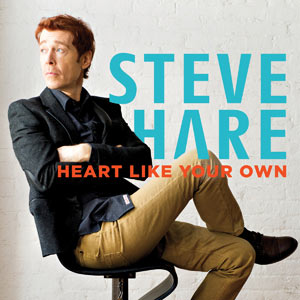 NEWS SOURCE: DREAM Records
March 26, 2013
Los Angeles, CA (March, 2013) DREAM Records is proud to announce the release of Steve Hare's first single, "A Heart Like Your Own" which is now available to all digital retailers. Steve went into the studio and collaborated with one of Christian music's hottest producers, Seth Mosley (Newsboys, Hawk Nelson, MercyMe) who has had a string of billboard number 1 hits. He also collaborated with writers, Chris Sligh (American Idol), Manwell Reyes (Group 1 Crew) and Beckah Shae.
"It was my pleasure getting to do this record with Steve. I am a firm believer in his heart for reaching people wherever they are, whether its in the seats on a Sunday morning, or on the streets of Philly. "A heart like your own" is a prayer that anyone can get behind, that we would see people the way God sees and simply love the way He does." - Seth Mosley
To hear the track, check out the streaming version below. His new album similarly titled, Heart Like Your Own will be in stores and online everywhere, May 7th. Buy his new single today on iTunes: http://bit.ly/16fhQkH
To view Steve Hare's YouTube Slide click here: http://www.youtube.com/watch?v=Ez-MQffcTIg
One of the most unique things about Steve is his ability to reach large numbers of people through his different ministry efforts. Steve is the founder and CEO of the Reach Radio Network which owns and operates 23 FM radio stations broadcasting in such markets as Philadelphia, PA, Buffalo, NY as well as 11 states and Canada.In addition Steve is pastor and worship leader of one the largest churches in the north east. These ministry efforts enable Steve to connect to thousands of people each week with a message of hope.
Here is the album's Track listing:
1. A Heart Like Your Own
2. Back To Your Heart
3. Take It Over
4. See You Shine
5. Hold Nothing Back
6. Reach A Heart
7. You Ain't Seen Nothing Yet
8. On The Edge
9. I Will Not Be Moved (feat. Beckah Shae)
10. Our God Is Here
11. Beyond Our Widest Dreams
12. Your Fire Is Here
13. Heaven Bound
For more information about Steve Hare and to pre-order the physical album head on over to SteveHareMusic.com as well as check out his social profiles on Facebook and Twitter.
ABOUT DREAM RECORDS
DREAM was founded in 2008 to provide artists with a genuine approach to how real artist development should be done. By allowing for a partnership as a business model, Dream's artists empower themselves to develop and carry out a real vision for their lives as they affect other people's lives with their music and message. Incorporating social media, press, radio and touring it's allowing it's artists grow together as a family.
# # #