DREAM Records Signs Bread Of Stone
Sioux City-based group, Bread Of Stone signs with DREAM Records. Debut Album To Be Released On September 24th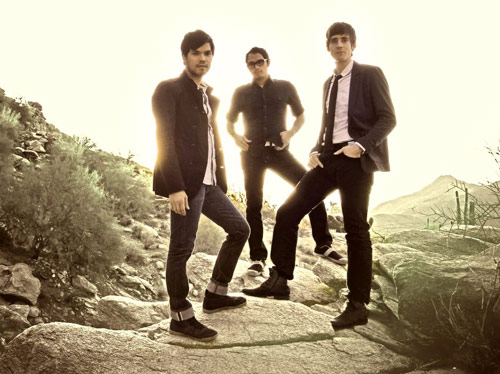 NEWS SOURCE: DREAM Records
May 30, 2013
May 2013 - Los Angeles, CA - DREAM Records is proud to announce the signing of Bread Of Stone. The Sioux City-based group will be re-releasing their album, The Real Life on September 24th worldwide. The album was produced in association with renowned Nashville hit-makers Lynn Nichols (Switchfoot, Phil Keaggy) and Tedd Tjornhom (MuteMath, Faith Hill).
General Manager of DREAM Records, Lance Brown, shares, "We absolutely love the guys in Bread Of Stone. Their hearts for saving souls is bar none. We hope to make an amazing impact for the kingdom with our new partnership."
"We're extremely excited to be signed to DREAM" says, Ben Kristijanto. "It's good to be able to work with people who share the same heart for ministry. Hopefully through this we can spread the message of the real life."
Bread Of Stone just finished The Promises Tour with Sanctus Real, Unspoken and JJ Heller and will continue their extensive touring schedule into the summer on a lot of great summer festivals. For more information about the group and to receive upcoming tour dates go to www.DreamRecords.org or www.BreadOfStone.com
ABOUT DREAM RECORDS
DREAM was founded in 2008 to provide artists with a genuine approach to how real artist development should be done. By allowing for a partnership as a business model, Dream's artists empower themselves to develop and carry out a real vision for their lives as they affect other people's lives with their music and message. Incorporating social media, press, radio and touring it's allowing it's artists grow together as a family.
ABOUT BREAD OF STONE
Having toured with a veritable 'Who's Who' of major CCM artists, including: Newsboys, Seventh Day Slumber, Superchick, Petra, Building 429, Sanctus Real and others - Bread of Stone has matured in their music and message. Wishing to release an album that truly captured their artistic vision, the band readily admits to being meticulous and demanding of themselves in the recording process. The end result of dedication to independence as artists - and the refining of their craft - is the band's new release 'The Real Life.' 'We have never set out to make a statement of ourselves as artists,' said Bill Kristijanto 'We are able to do so only through God's Grace'.
###
For more info on Bread of Stone visit the JFH Artists Database.