HILLSONG UNITED SURPASSES 15,000 IN ATTENDANCE
AT FAMED HOLLYWOOD BOWL IN LOS ANGELES DURING USA SUMMER "WELCOMEZION" TOUR
JUNE 13 SHOW AT REDS ROCKS IN DENVER
SOLD OUT

"WELCOMEZION" TOUR WILL BE ONE OF THE TOP ATTENDED CHRISTIAN TOURS OF 2013 PLAYING IN FRONT OF NEARLY 80,000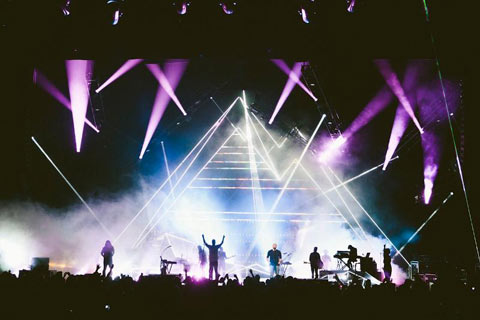 NEWS SOURCE: TKO Marketing
June 13, 2013
HIGH POINT N.C. (June 13, 2013) - Hillsong UNITED is riding the wave of their USA "WELCOMEZION" Tour this summer, surpassing 15,000 in attendance at the famed Hollywood Bowl in Los Angeles, as they cross the country captivating capacity crowds. On Thursday, June 13, the Australian-based worship group brings their "WELCOMEZION" Tour to a sold-out audience at Red Rocks in Denver. The tour will be one of the top attended Christian tours of 2013 with nearly 80,000 people in attendance.
"Our goal with the "WELCOMEZION" Tour was to take it to the next level," said Jason Strong of Hillsong UNITED. "We believe we have been given an opportunity, and we want to make sure we do the best we can with that. Ultimately, it is about using what you have the best you can to bring glory to our Savior and King. We are excited to be doing some pretty famous venues, but our goal remains the same; that He is made famous and everything we do brings people closer to God."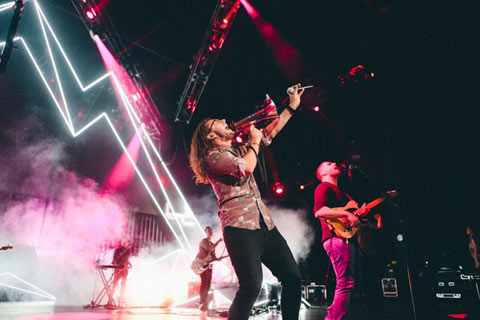 So far this summer, the tour made stops at the Hollywood Bowl in Los Angeles, Rose Garden Arena in Portland, Ore., ShoWare Center in Seattle, Sleep Train Pavillion in Concord, Calif., Grand Canyon University Arena in Phoenix, Isleta Amphitheater in Albuquerque, N.M., and Verizon Theatre in Dallas.
Hillsong UNITED comments on the iconic venues during the "WELCOMEZION" Tour:
"Hollywood wasn't just a dream of ours, but a dream of many people to be there and to see such an iconic venue to be used for the glory of God and used for a night to worship God - and with the 15,000+ people there, you could definitely feel that!" Matt Crocker on the Hollywood Bowl
"It didn't surprise me, but sometimes when you are in a big setting it takes people a while to get going, especially in LA - but they were into it from the beginning." - Jad Gillies on the Hollywood Bowl
"More than just an incredible night, it is making a statement for the Church - which is what we are all about - and it is sending a message that the Church is rising and going from strength to strength and we are honored to be a part of that. Hopefully lives are changed forever through what Jesus is doing" JD on being involved in events at venues like Hollywood Bowl and Red Rocks
"It was the best night of my ministry life." Jad Gillies on the Hollywood Bowl
"We are excited about Red Rocks. You think of all the musicians and artists who have played there - it has been the best of the best. It is very humbling to be able to be here as part of the Church! We are hoping it will be another stake in the ground for the Church." JD on getting to play at Red Rocks
"I have had the feeling in a few venues around the world - it's not the size that counts, but it's the wait, the expectation, the anticipation - the thought of what has happened in these places before. It's when everything comes together and is a collision of all the things above. It's really difficult to put it into words." Joel Houston on Hollywood Bowl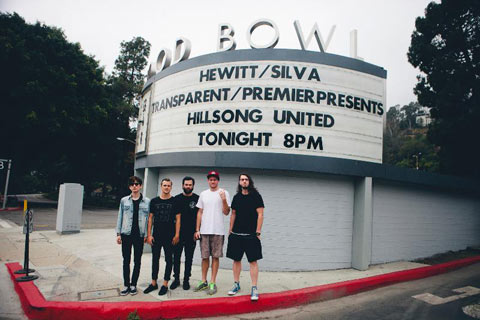 Upcoming tour dates:
Date Venue Location
June 13 Red Rocks Denver, CO
June 15 Chesapeake Bay Energy Arena Oklahoma City, OK
June 17 Target Center Minneapolis, MN
June 18 Sears Centre Arena Hoffmas Estates (Chicago), IL
June 19 Bankers Life Fieldhouse Indianapolis, IN
For more information on the tour, please visit: HillsongUnited.com.
The Australian-based UNITED has a long history of sold-out shows in the United States. The touring entity of UNITED has made a huge wave in the States as they became the first Christian artist to ever sell out Los Angeles' Staples Center. In addition to the Staples Center, UNITED has also sold out major venues in Seattle (ShoWare Center), New York (Hammerstein Ballroom), Atlanta (Gwinnett Center), Miami (BankUnited Center), Dallas (Music Hall) and two back-to-back sold out events in Boston (Orpheum Theatre). UNITED also holds the record for largest attendance ever in the Sears Centre Arena (Chicago, IL), outdrawing concerts there by such legendary performers as Billy Joel, Elton John and the Eagles. Since 2006, UNITED has toured six continents and 42 nations. About Hillsong UNITED: UNITED is a worship band that originally rose out of the youth ministry of Hillsong Church in Sydney, Australia. This progressive worship band is a global recording and touring entity sent out to share the ever-evolving worship music of Hillsong Church to an international audience through live performances and records. UNITED desires to see a generation across the earth awakened to real love, rising up with hearts as one and finding value in the broken, hurting and lost connecting with Jesus.
CONNECT WITH UNITED:
http://www.hillsongunited.com/
http://instagram.com/hillsongunited
https://twitter.com/hillsongunited
https://www.facebook.com/hillsongunited
About Premier Productions: Formed in 1996, Premier Productions is the largest producer of Christian concert events in the nation and the co-founder of the Winter Jam Tour Spectacular, Christian music's largest annual tour! With more than 200 events a year, Premier promotes award-winning artists with No. 1 hits such as - TobyMac, Skillet, Casting Crowns, Hillsong Live, Hillsong UNITED, Lecrae, Bill Gaither & Friends Homecoming, Jesus Culture, Kari Jobe, Matthew West and many more! For more information on Premier Productions, please visit premierproductions.com.
###
For more info on Hillsong UNITED visit the JFH Artists Database.