NORMA JEAN NEW STUDIO ALBUM - WRONGDOERS - TO BE RELEASED ON AUGUST 6, 2013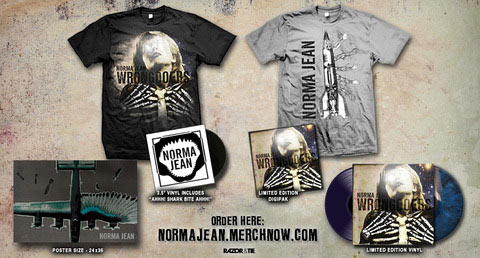 NEWS SOURCE: Razor & Tie PR
June 13, 2013
(New York, NY) -Norma Jean will release their new studio album, Wrongdoers on August 6th through Razor & Tie. The album was recorded at Covenant Recording Studios in Kansas City with producer Josh Barber and was mixed by Jeremy Griffith. Wrongdoers is the band's sixth full length album and their second Razor & Tie album to date. The album is the follow-up to the band's critically acclaimed 2010 release, Meridional.
Pre-Order Wrongdoers now in various bundles that include at MerchNow (http://normajean.merchnow.com). Available items include t-shirts, the digipak edition of the album, a poster as well as limited edition vinyl pressed in purple, blue/grey swirl and clear. There is also an exclusive limited edition special 3.5" vinyl featuring B-sides "AHHH! SHARK BITE AHHH!" and "Chug On Three."
The Atlanta based, Grammy-nominated act has sold over 416,000 combined units in the United States and are esteemed for their aggressively artful sound which has garnered critical praise around the world as evidenced by the overwhelmingly positive press that greeted the band's previous R&T album Meridional which Alternative Press called, "Norma Jean's first true masterpiece.". A.P. also named it one of their Top 10 "Essential Albums of 2010" along with naming Cory Brandan "Best Vocalist" in their MVR's (Most Valuable Rockers) of 2010.
Wrongdoers Track List:
1. Hive Minds
2. If You Got It At Five, You Got It
3. Wrongdoers
4. Potter Has No Hands
5. Sword In Mouth, Fire Eyes
6. Afterhour Animals
7. The Lash Whistled Like A Singing
8. Neck In the Hemp
9. Triffids
10. Funeral Singer
11. Sun Dies, Blood Moon
NORMA JEAN LINKS
www.myspace.com/normajean
www.facebook.com/normajean
www.twitter.com/normajeanband
http://www.normajeannoise.com
http://www.normachine.com
###
For more info on Norma Jean visit the JFH Artists Database.