ANDREW GREER'S ALL THINGS BRIGHT & BEAUTIFUL
TOPS CHRISTIAN INSTRUMENTAL CHART
FOR EIGHT CONSECUTIVE WEEKS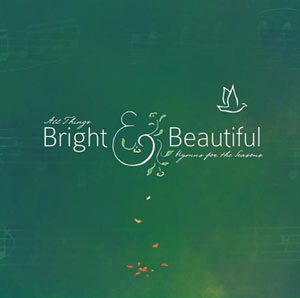 NEWS SOURCE: Turning Point PR
June 19, 2013
NASHVILLE, Tenn.- All Things Bright & Beautiful: Hymns for the Seasons, an instrumental collection produced and arranged by acclaimed singer/songwriter Andrew Greer, has topped Neilsen Christian SoundScan's Instrumental chart for eight consecutive weeks.
Created exclusively for Parable Christian Stores by Lucid Artist Management and co-produced by Chris Kimmerer and Johnson Roberts, All Things Bright & Beautiful has also been Parable's overall best-selling recording for seven weeks, according to the Parable Christian Stores/CMW National Retail chart. Celebrating the consistency of God through all seasons of life, the 12-song acoustic set features such favorites as "Be Thou My Vision," "In The Garden," "Come Thou Fount" and "I Surrender All."
"All Things Bright & Beautiful transports listeners to a time when churches used hymnbooks rather than multimedia presentations," said Randy Ross, marketing specialist, The Parable Group. "But the arrangements would find their place in even the most modern of worship services, giving room for personal worship and private reflection. It's obvious that this direction connects with music buyers, as the project has been at the top of our bestsellers reports for multiple weeks!"
"St. Francis of Assisi encouraged folks to 'Pray without ceasing. If necessary use words,'" said Andrew Greer. "In a culture inundated with loud voices, I am honored Greg Lucid and Parable Stores asked me to contribute to our times of quiet prayer with a reflective instrumental hymns record. The Truths of God implied simply by the sound of music compel me to worship. And the beauty of using primarily acoustic instruments is that when played, they simply manipulate the sounds already swimming in the atmosphere. It's as if the earth itself is singing. And we were thrilled to capture a bit of this, in our own way, on tape."
Andrew Greer is an acclaimed singer/songwriter, respected music journalist and creator of the innovative "Hymns for Hunger" Tour, along with Dove Award-winning singer/songwriter Cindy Morgan. Helping raise awareness and resources for hunger relief organizations around the country, the tour has been presented in dozens of cities to date, along with special performances at the National Religious Broadcasters Convention and the Billy Graham Evangelistic Association earlier this year.
Greer's sophomore recording, 2012's critically-praised Angel Band: The Hymn Sessions, reached #2 on Amazon's Hot New Releases in Contemporary Folk chart and showcases collaborations with some of the top names in bluegrass, Gospel and Christian music, including The McCrary Sisters, Ron Block of Alison Krauss & Union Station, Sonya Isaacs, and Ginny Owens, among others.
For further information on Andrew Greer, visit www.andrew-greer.com.
###
For more info on Crystal Lewis visit the JFH Artists Database.