NEWSONG TO HIT THE ROAD WITH
AARON SHUST AND ROYAL TAILOR FOR THE
'SWALLOW THE OCEAN' FALL TOUR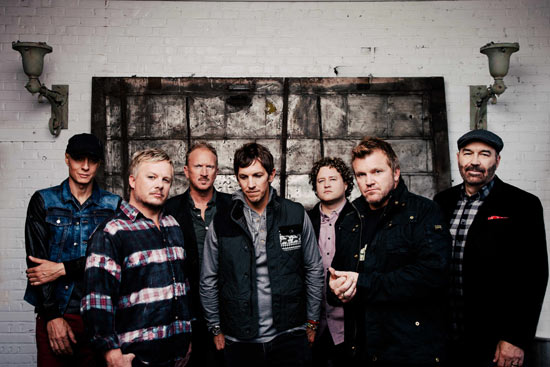 NEWS SOURCE: Turning Point PR
July 9, 2013
NASHVILLE, Tenn.-GRAMMY®-nominated NewSong is set to bring their "Swallow The Ocean" Fall Tour to multiple cities across the U.S., it was announced today. The tour will feature Dove Award-winning singer/songwriter Aaron Shust and acclaimed pop/rockers Royal Tailor, along with special guest, new Word recording duo Love & The Outcome.
Launching in September, the "Swallow The Ocean" Fall Tour is slated to hit Philadelphia (Sewell, New Jersey); St. Louis (Cottage Hills, Illinois); Gainesville, Florida (Micanopy); Chesapeake, Virginia; Lenoir, North Carolina; Portsmouth, Ohio; and Waycross, Georgia, among other cities.
NewSong will present selections from their best-selling 18th recording, Swallow The Ocean. Along with the album's title-cut and the group's latest single, "Who Loved You First," NewSong's headlining set will also feature highlights from their legendary career, including the signature anthem "Arise, My Love."
Founders and hosts of the internationally top-ranked Winter Jam Tour Spectacular-the #1 tour in the world (first quarter) for three consecutive years-NewSong's unparalleled legacy includes 18 albums, 20 #1 Christian radio singles, a Dove Award and a GRAMMY® Award nomination, in addition to being inducted into the Georgia Music Hall of Fame, among numerous other achievements. The band's three-decade career boasts such defining songs as "The Christmas Shoes," "Arise, My Love," "Rescue," and their 2012 hit, "The Same God."
Dove Award winning artist Aaron Shust has been embraced by Christian radio since his debut project in 2006, which contained the mega-hit single "My Savior, My God" that rose to #1 on six charts. Shust's last project, This Is What We Believe launched with the biggest song of his career, "My Hope Is In You," which stayed at the top of the AC Monitored chart for 14 weeks. Shust is scheduled to release his new album, Morning Rises, July 16th and already the new project is garnering strong attention. The first single, "God Of Brilliant Lights," is already Top 20 at AC Radio and Shust will be the cover story for CCM and iBelieve magazines' August issues, has reviews with Worship Musician, JesusFreakHideout.com, Christian Retailing, and upcoming interviews with Christian Post, CBN.org, Faith Radio/Live The Promise and World Christian Broadcasting. At the GMA Awards in 2007, Shust was honored with three Dove Awards for Song of the Year ("My Savior, My God"), Songwriter of the Year, and New Artist of the Year.
With a contagious blend of pop, R&B, hip hop and rock, Royal Tailor is a high-energy band and music ministry reaching out to a new generation of students suffering from symptoms of a visionless life. In just four years, the group has performed more than 425 shows, including playing at the Nashville GRAMMY® Chapter's Block Party stage alongside artists including Old Crow Medicine Show and The Civil Wars. Royal Tailor's debut project, Black & White, received a 2012 GRAMMY® Award nomination for Best Contemporary Christian Music Album and produced the band's first #1 radio single "Make A Move."
For Chris and Jodi, Love & The Outcome is both a name and a literal life story. The duo sold their Winnipeg condo en route to a high-stakes musical road trip that has seen them criss-cross Canada, Liberia, the Philippines and China, winning over fans both emotionally and spiritually with their blend of effervescent pop. After signing to Word Records in 2012, they retreated to the mountains of Washington state to record their powerful debut, produced by Seth Mosley (Newsboys) along with Ben Glover (for King & Country) and David Garcia (TobyMac).
For further information on the "Swallow The Ocean" Fall Tour, visit www.newsongonline.com
# # #
For more info on NewSong visit the JFH Artists Database.