SKILLET HOLDS ON TO NO. 1 BILLBOARD HARD ROCK & CHRISTIAN SALES THIS WEEK
The New York Times prominently features band as they ready for late night TV on CONAN

Band performs exclusive acoustic set and interview for Billboard.com

Yahoo! premieres "American Noise" video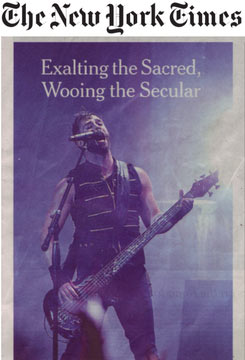 NEWS SOURCE: The M Collective
July 10, 2013
Nashville, Tenn. (July 10, 2013) - One week since their critically acclaimed project RISE entered Billboard's Top Rock, Hard Rock and Top Christian Charts at No. 1, as well as No. 4 on the Top 200, GRAMMY® nominees and platinum rockers Skillet have held on to the No. 1 slot on the Billboard Top Hard Rock and Top Christian Albums Charts. Solid sales in week two also gave the band a firm spot at No. 2 on the Billboard Top Rock Chart and No. 11 on the Top 200.
Also this week, The New York Times talks about the bands dual market success in an extensive interview here as Skillet readies for their late night debut on CONAN this Thursday, July 11. Additionally, Billboard has once again prominently featured the band, this week unveiling an exclusive interview and acoustic set taped at their studios in Manhattan.
Additionally, following last weeks initial premiere of the music video for Skillet's Christian Hot AC/CHR hit "American Noise" (currently No. 3) with Salem Communications Media team (CCMMagazine.com, TodaysChristianMusic.com, KLTY.com and FISH radio sites), Yahoo! Music is premiering the video, its Behind-the-Scenes counterpart, and the songs lyric video today.
Following recent performances at several major Christian and mainstream festivals, Skillet (vocalist/bassist John Cooper, guitarist/keyboardist Korey Cooper, drummer/vocalist Jen Ledger and guitarist Seth Morrison) are gearing up to hit the road with Shinedown on the upcoming Carnival of Madness tour. Kicking off August 13th the tour will also feature the touted prodigy band of John Cooper, We As Human. They'll follow by heading overseas for their first-ever tour with Nickelback, a month-long jaunt that will see Skillet playing Milan, Paris, Vienna, London, and many more.
About Skillet:
RISE follows the band's 2009 blockbuster, Awake, which was recently certified platinum for sales in excess of one million copies in the U.S. It's worth noting that Skillet was the only active rock band to achieve platinum certification in 2012, and were one of only three rock bands (the other two being Mumford & Sons and The Black Keys) to strike platinum in 2012.
Awake debuted at No. 2 on Billboard's Top 200 Album Chart and No. 1 on the magazine's Top Modern Rock/Alternative Albums Chart. In addition, the record hit No. 1 on the iTunes® Top Albums Chart, garnered three Billboard Music Awards and spawned four hit singles including the No. 1 Active Rock smash and gold-certified "Awake & Alive," the gold-certified "Hero," "It's Not Me It's You" and the platinum-certified "Monster." "Monster" lived up to its name, selling more than a million copies and hitting Top 5 at Active Rock radio (the first in a string of multiple Top 5 active rock hits), while its companion video has generated over 47 million YouTube views. The hook-happy "Hero" was featured in season-long spots for NBC's NFL Sunday Night Football and served as the official theme song for WWE's Royal Rumble Pay-Per-View. The band toured endlessly in support, playing to sold-out crowds across the country, which earned them a spot on Pollstar's Concert Pulse Chart of the Top 50 Tours for fall of 2010. Awake followed the band's 2006's gold-selling album, Comatose.
Over the course of the past few years, Skillet has sold more than two million units in the U.S. alone, racked up more than 150 million YouTube views and amassed a diehard following (dubbed Panheads) whose members number in the millions, including over 4 million on Facebook alone.
[Get Connected with Skillet]
Website// www.skillet.com
Facebook// www.facebook.com/skillet
Twitter// www.twitter.com/skilletmusic
# # #
For more info on Skillet visit the JFH Artists Database.