RIGHTEOUS VENDETTA WRAPS UP RECORDING NEW FULL-LENGTH
New album due out this fall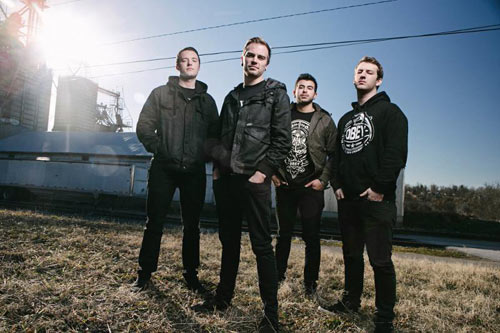 NEWS SOURCE: Fresno Media
July 12, 2013
CODY, WYOMING - Wyoming rock/metal act on the rise, Righteous Vendetta, has completed recording its new album at JTW Recording Studios in Hubertus, Wis. with producer, Joel Wanasek, who also produced the band's previous effort, Lawless.
The upcoming LP will feature new mixes of several tracks from the band's recent EP, 'Vol. 1,' along with four brand new anthems.
The band plans to release the forthcoming full-length sometime in fall 2013.
"The new record is sure to be one of the biggest, hardest hitting mixes in the genre," said vocalist Ryan Hayes. "It is heavy, catchy, melodic, and will have you singing every chorus after the first time you hear it."
Righteous Vendetta will look to build upon past successes, including a hit single, "This Pain," which spent 15 weeks in the top 20 on Billboard's Christian Rock chart, and over 800 shows played around the globe.
The band recently wrapped up an extensive U.S. run with Virginia rock quartet, HURT, while also launching a Groupees charity campaign to benefit LeSEA Global Feed the Hungry (www.feedthehungry.org).
Currently, Righteous Vendetta is gearing up for several European festival appearances next month, with more U.S. tour-dates soon to be announced.
In the meantime, check out the music video for "The Fire Inside," taken from 'Vol. 1' EP at: http://youtu.be/Qv-DekcmbpY, and stay tuned for more information on Righteous Vendetta.
Righteous Vendetta on tour...
7/26 - Sheridan, WY @ Sheridan Fairgrounds
8/02 - Kassel, GERMANY @ Freakstock Festival
8/10 - Rybnik, POLAND @ Sonar Days Festival
8/16 - Grossandelfingen, SWITZERLAND @ Heavenstage Festival
Righteous Vendetta online...
www.facebook.com/righteousvendetta
www.righteousvendetta.com
www.youtube.com/user/RighteousVendetta
Righteous Vendetta is...
Ryan Hayes - Vocals
Justin Olmstead - Guitar
Isaiah Perez - Drums
Carl Heiman - Guitar