NO OTHER NAME'S 2013 "MISSION: NASHVILLE" SEES RECORD TURNOUT

Event Brings Together 100 Fans Who Serve Nashville International Community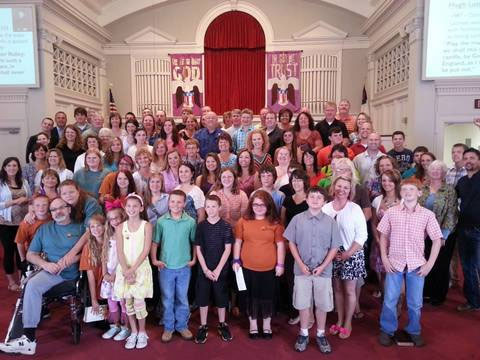 NEWS SOURCE: Savvy Media
July 24, 2013
(NASHVILLE, Tenn.) July 24, 2013-Curb recording artist No Other Name recently wrapped its most successful fan mission event to date, 2013 "Mission Nashville," which gathered 100 fans, its largest group ever, for service activities surrounding Nashville's international community.
"Mission Nashville" kicked off on Friday, July 12 with service projects beginning on Saturday. Due to the large volunteer turnout, participants were divided up into teams, with each of No Other Name's three members heading up a different team. "Team Sam" spent the afternoon at a low-to-moderate income housing co-op where many refugees reside, working various construction tasks, while "Team Chad" was tapped for outreach opportunities at several kids' clubs comprising children of diverse nationalities.
Chad comments, "The kids we worked with were great. They participated in everything from volleyball to Bible story time. There were so many seed-planting opportunities. I was humbled to be part of it."
"Team Laura" initiated a prayer walk through different international sites in Nashville for the people who live and work there. She explains, "We prayed for their homes and their businesses. We prayed for the churches in the area, that they would be bold and creative in their ministries to internationals. And we prayed for the existing ministries that currently deal with the refugee population in Nashville, that they would be able to share the love of Christ with those who've never heard His name."
Laura's group also hosted a block party for the children at the housing community with food, games, and fellowship. She recalls of the experience, "We had about 50 kids show up! We played games with them, painted their faces, gave them candy and snow cones and most important, shared the Gospel with them. I loved seeing their happy faces as we loved on them."
For the last four years, No Other Name has sponsored an annual mission trip, inviting fans to participate in outreach areas like Managua, Nicaragua and Sao Paulo, Brazil. Last year, the group chose Nashville as its mission field, given the city's diverse international population with hundreds of people groups, spoken languages and cultures and, due to its popularity, decided to reprise the Nashville trip again this year.
To view photos from 2013 "Mission Nashville" visit: www.facebook.com/noothername
or watch a video from the trip at http://youtu.be/RzdgOObUlC8.
About No Other Name
Signed to Curb Records in 2008, No Other Name comprises brother-sister duo, Sam and Laura Allen, along with their friend Chad Smith. The group formed when the three attended a summer music conference at Nashville's Belmont University.
In 2011, No Other Name was recognized by industry and fans with a GMA Dove Award nomination for New Artist of the Year before releasing its first record. Later that year, the group made its national debut with The Other Side on Oct. 25, 2011. The album was a hit out of the gate, with Worship Leader magazine calling it "a must-have CD" and rhapsody.com describing the project as a "spiritual call to arms." Additionally, The Alabama Baptist touted, "[i]f you buy only one CD this year, consider this one," while CCM Magazine declared "...No Other Name is a moniker poised to be on the tip of everyone's tongue."
No Other Name is a strong proponent of missions and partners with the Southern Baptist Convention's International Mission Board to help recruit missionaries while joining the organization on trips to Nicaragua as well as Brazil. Most recently, the Southern Baptist Convention adopted No Other Name's song "Let It Start With Me" as its missions theme song. The track was used in conjunction with a music video for "Let It Start With Me," created by the IMB and distributed to more than 40,000 Southern Baptist Convention churches, as a missions recruitment tool.
For more information on No Other Name, visit www.noothername.com or follow the group on Twitter at www.twitter.com/noothername.
For more info on No Other Name visit the JFH Artists Database.