Entertainment One Artist Bryan Popin Launches Multi-City 'You Can Make It' Tour
You Can Make It CD Featuring Guest Vocalists Tamela Mann, Martha Munizzi Available In Stores, Online October 22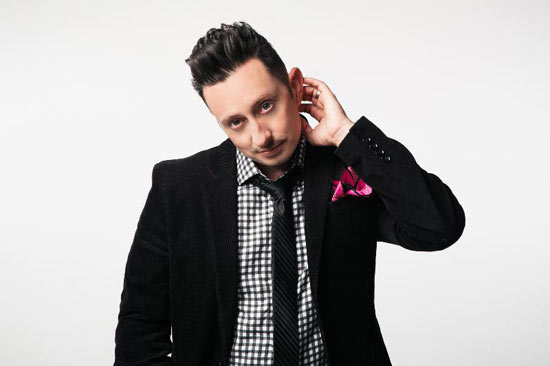 NEWS SOURCE: TKO Marketing
August 29, 2013
NASHVILLE, Tenn. (August 29, 2013) - Soulful Singer/Songwriter Bryan Popin announces the You Can Make It Tour in support of his October 22 CD release of You Can Make It through a partnership with eOne Music. Popin is set to visit churches across the country sharing songs of inspiration. The tour kicks off on September 1, 2013 at Bishop TD Jakes' The Potter's House in Dallas.
September 1, 2013 Dallas, TX The Potter's House
September 4, 2013 Nashville, TN Oasis Church
September 8, 2013 Nashville, TN Oasis Church
September 15, 2013 Ausbury Park, NJ Triumphant Life Church
October 3, 2013 Atlanta, GA AARP National Event
October 4, 2013 Atlanta, GA AARP National Event
October 9, 2013 Atlanta, GA Babbie's House with Babbie Mason
October 18, 2013 Ocala, FL Christ Church of Marion County
October 20, 2013 Fruitland Park, FL Life Church
October 24, 2013 Detroit, MI The Dorinda Show
October 25, 2013 Detroit, MI The Word Network
October 27, 2013 Wheeler, MI Amazing Grace Church
November 9, 2013 Middletown, NY Christian Faith Fellowship Family Church
November 10, 2013 Middletown, NY Christian Faith Fellowship Family Church
November 16, 2013 Fort Wayne, IN Cornerstone Harvest Church
November 17, 2013 Lima, OH Cornerstone Harvest Church
November 22, 2013 Doylestown, PA River of Life Church
November 24, 2013 New Brunswick, NJ Abundant Life Family Worship Church
December 7, 2013 Summerfield, FL Village View Community Church
December 8, 2013 Summerfield, FL Village View Community Church
December 18, 2013 Orlando, FL Victorious Living Fellowship
December 22, 2013 Fredericksburg, VA Strong Tower Ministries
Popin's 14-track CD You Can Make It became an anthem and soundtrack to his life. The CD features a compelling collection of songs penned by Popin featuring guest vocals from powerhouse vocalists Tamela Mann and Martha Munizzi, and Jesse Campbell (NBC's The Voice). Popin co-produced You Can Make It with Grammy winners Ira Schickman (Chaka Khan), Bryan Lenox (TobyMac, Marvin Winans), and Myron Butler (Kirk Franklin, Tamela Mann.) You Can Make It contains songs that are reflective of Popin's journey.
LINKS:
BryanPopin.com
facebook.com/BryanPopinMusic
twitter.com/bryanpopin
About Bryan Popin
A native of Middletown, NJ, Popin began paying piano by ear when he was 11 years old. Popin studied with such noted teachers as Julliard's Dr. Sammuel Mammel and Rutgers University's Dr. Joseph Accurso. Early in his career, the legendary Stevie Wonder nicknamed him "Little Boy Wonder" and he's continued to impress with his songwriting and musician skills and vocal prowess. He's collaborated with R&B legend Chaka Khan and highly respected worship leader Martha Munizzi. He's opened for Israel Houghton, Deitrick Haddon, Donnie McClurkin, Marvin Sapp and American Idol alum Danny Gokey. At the height of their popularity, 'NSYNC recorded one of his tunes on their multi-platinum album Celebrity. You Can Make It is Popin's first national release in partnership with eOne Worship.
About eOne Worship
eOne Worship is a division of Entertainment One. Based in Franklin, Tennessee, eOne Worship exists to give a voice to the music of today's multi-cultural church and worshippers worldwide. eOne Worship's roster includes Martha Munizzi, one of today's leading worship voices, song leader Bryan Popin, Spanish worship compilation Mi Corazón Canta and Phoenix-based worship pastor BJ Putnam.
For more information on eOne Worship, visit facebook.com/eOneWorship and Twitter.com/eOneWorship.
About Entertainment One
Entertainment One Ltd. (LSE:ETO) is a leading international entertainment company that specializes in the acquisition, production and distribution of film and television content. The company's comprehensive network extends around the globe including Canada, the US, the UK, Ireland, Australia, New Zealand, Benelux, France, Germany, Scandinavia, South Africa and South Korea. Through established Entertainment and Distribution divisions, the company provides extensive expertise in film distribution, television and music production, family programming and merchandising and licensing. Its current rights library is exploited across all media formats and includes more than 24,000 film and television titles, 2,700 hours of television programming and 45,000 music tracks.
For more information about Entertainment One, visit www.eonemusic.com.
###