GO FISH TO SHINE WITH 2014 VBS CURRICULUM
AS THEME SONG TOPS CHART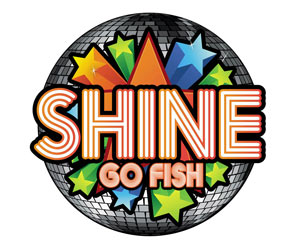 NEWS SOURCE: Turning Point PR
September 17, 2013
NASHVILLE, Tenn.-Continuing a mission to radically redefine Vacation Bible School, Go Fish-leading providers of children's entertainment and ministry resources-unveils their highly-anticipated 2014 VBS curriculum, SHINE. The announcement comes as the series' theme song reached #1 on iTunes' "Top Children's Music Songs" chart following its release last week.
Highlighted by six new music videos, including "Shine," I'll Fly Away" and "Rise & Shine," the new VBS showcases original Go Fish songs as well as the group's fresh arrangements of popular classics. Thematically focused on the heavenly crowns the Bible says will be given to those who shine for Jesus here on earth, SHINE's five sessions explore the crowns of victory, life, rejoicing, glory and righteousness.
On the heels of 2013's Gotta Move!, the top-selling Go Fish VBS series to date, the SHINE VBS curriculum will be available for purchase later this year, while the theme song is available now on iTunes.
"We are laser-focused on creating the new SHINE VBS curriculum, making sure children will hear the Gospel, actively use their Bibles, and know what it means to give God glory," said Jamie Statema, president, Go Fish Resources. "I am humbled and extremely grateful that thousands of churches have trusted us to provide curriculum for the evangelism and discipleship of their children during summer programs. This continues to drive us to raise the bar for our new resources each year." Designed for both elementary and preschool ages, SHINE offers Bible study, music, skits, crafts, snacks, games and more. The complete leader resource kit contains music videos, teaching video clips, director's manual, reproducible teacher manual, artwork files, posters and various promotional items, including name tags, CDs and t-shirts.
In addition to SHINE, Go Fish's Gotta Move! curriculum will continue to be available, giving churches a choice of materials for 2014 VBS presentations. The group's recently released Kids Music, a 10-song collection including the six titles featured in the Gotta Move! VBS, has been nominated for a 2013 GMA Dove Award for Children's Music Album of the Year.
Since 2003, Go Fish has been a leading provider of family entertainment and children's ministry resources. The group's growing list of acclaimed products includes The Gift Of Advent Christmas curriculum and numerous successful recordings and DVDs, including Kickin' It Old School, Party Like A Preschooler, and Christmas With A Capital 'C.' Go Fish concert appearances have drawn capacity crowds in churches, theatres and arenas across the country for more than a decade.
For further information on the SHINE VBS curriculum, visit www.gofishresources.com.
# # #
For more info on Go Fish visit the JFH Artists Database.