"A Master Still Creating Masterful Work,"
Steven Curtis Chapman's
The Glorious Unfolding Debuts to Critics and Fan's Praise
New single "Love Take Me Over" already Top 3

"The Glorious Unfolding" 35-City Fall Tour launches with weekend sell-outs in Dallas, Houston and Lubbock
NEWS SOURCE: The M Collective
October 1, 2013
Nashville, Tenn. (October 1, 2013) - As critical praise pours in for The Glorious Unfolding, which is available now, descriptions such as "a master still creating masterful work," "career defining record" and "musically sublime" are making it clear that people were ready to hear from highly acclaimed singer-songwriter Steven Curtis Chapman again.
With 47 No. 1 singles and nearly 11 million career albums sold, The Glorious Unfolding is Chapman's first full-length studio album with all original songs in seven years. Both Billboard and USA Today exclusively premiered tracks last week, "The Glorious Unfolding" Tour kicked off with three sell-out shows in Dallas, Houston and Lubbock over the weekend, and Chapman is also being welcomed with open arms at radio.
The album's first single "Love Take Me Over," garnered 42 radio adds its first week out, making it one of Christian music's highest radio add dates of 2013. The single continues to storm up the charts, currently No. 3 on the AC Indicator chart, and No. 8 on the National Audience chart, with an audience gain of 1 million new listeners reached in the past week alone. Chapman is supporting the single by partnering with KLOVE, JOY FM and WAYFM to give fans the chance to win a trip to his New York City Carnegie Hall show in February 2014.
Here is just a quick glimpse of the applause for The Glorious Unfolding: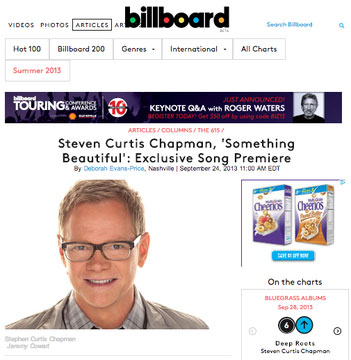 Billboard - "Chapman admits that after recording for more than 25 years, the challenge in crafting his 18th album was to deliver something fresh while not taking such a detour that it would leave the existing fan base feeling alienated. He skillfully achieves that tricky balance."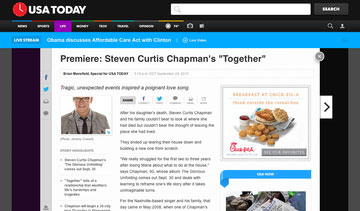 USA Today - "Chapman, who has been one of Christian music's most popular performers for more than 25 years…deals with learning to reframe one's life story after it takes unimaginable turns."
Jesus Freak Hideout - "Steven Curtis Chapman has put out another winner. It's spiritually deep, extremely personal, and musically sublime. Chapman fans will love it, as should any CCM fan."
NewReleaseTuesday.com - "This is a landmark achievement and a career-defining record, an album for the ages that will take its place beside much acclaimed albums like The Great Adventure, Signs of Life and Speechless."
Hallels.com - "Bottom line: this is an album of hope and finding joy after the storm. Steven Curtis Chapman has done it again."
Christian Music Zine - "Steven Curtis Chapman has recorded a fine, vulnerable and touching new album, one that will capture the hearts and minds of all who will listen, and changes us all from the inside out."
Worship Leader - "There is a particular warmth and depth to this work - a master still creating masterful work."
The Glorious Unfolding centers on the truth that God is at work telling a story through the wonderful and amazing as well as the painful and difficult chapters of our lives, something Chapman understands first hand:
"The theme for the new album was this idea that God will complete the story and in fact, He already has completed it and knows the ending. Yet a part of the mystery is that He is revealing it in our lives and it's this unfolding, incredible tale of His love for us. This album gave me a chance to tell that, to celebrate loss and hope and new life. For all of that, I'm really grateful," remarked Chapman.
About Steven Curtis Chapman:
Steven Curtis Chapman has sold nearly eleven million records including two RIAA certified platinum albums and eight RIAA certified gold albums. Along with his five GRAMMY® awards and 16 nominations, Chapman has won an American Music Award, has recorded 47 No. 1 U.S. radio hits and been awarded 57 Dove Awards, more than any other artist to date. Since his recording career began in 1987, Chapman has recorded seventeen projects with Sparrow Records. He has performed at the White House and has appeared on multiple national programs via CBS, NBC, ABC, CNN, MSNBC, CMT, FOX News, the Hallmark Channel and E!, including Good Morning America, Larry King Live, Fox & Friends, Huckabee, CBS Sunday Morning, The Tonight Show with Jay Leno and more. Chapman and his wife Mary Beth created Show Hope after bringing their first adopted daughter, Shaohannah, home from China in 2001. The ministry's goal is to raise awareness about orphan care as well as to help families reduce the financial barrier of adoption. Now celebrating its 10th year of service, Show Hope has provided adoption grants to more than 4,000 families wishing to adopt orphans from around the world. Visit www.ShowHope.org.
[Get Connected With Steven Curtis Chapman]
Website // www.stevencurtischapman.com
Facebook // www.facebook.com/stevencurtischapman
Twitter // @StevenCurtis
###
For more info on Steven Curtis Chapman visit the JFH Artists Database.