BEC RECORDINGS' ALL THINGS NEW CELEBRATES THE HOLIDAYS WITH SPECIAL CHRISTMAS EDITION OF THEIR DEBUT RELEASE
ALL THINGS NEW CHRISTMAS EDITION RELEASES DIGITALLY NOVEMBER 25

TOURING THIS SPRING WITH FRANCESCA BATTISTELLI AND SANCTUS REAL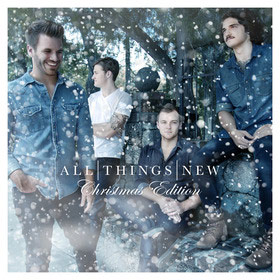 NEWS SOURCE: Merge PR
November 14, 2013
SEATTLE, WA - November 14, 2013 - The Florida quartet that brought fans the radio singles "New Man" and "Washed Over Me" are thrilled to celebrate the holiday season with a special digital release of their self-titled debut. All Things New Christmas Edition will release digitally on November 25 featuring the entire debut album in addition to three Christmas tunes ("He Has Come," "Go Tell It On The Mountain," "Why Can't It Be Christmastime All Year"). Earlier this year, All Things New released their full-length debut on BEC Recordings.
"All of us in All Things New love Christmas so much that we have already started blasting Christmas songs to get in the holiday spirit," shares frontman Garrett Hornbuckle. "We are so excited for this Christmas especially because it's the first time we have ever released Christmas music! Can't wait for everyone to hear these songs."
Throughout this year, fans across the country have been introduced to All Things New as they have toured 30+ dates with Newsboys on their spring "God's Not Dead Tour" and this fall with the Rhett Walker Band
"Come to the River Tour." In 2014, concertgoers will be able to hear the band on the upcoming tour featuring Francesca Battistelli and Sanctus Real. Tour dates to be announced. This year, All Things New has had two radio singles that have charted on the National Christian Audience, AC Monitored and Indicator charts. Here's what radio programmers have to say about this new band:
"They're a breath of fresh air. There's something crisp about their sound. Like an apple in autumn plucked from the tree at that perfect moment." - Mike Couchman (KSOS/Las Vegas MD)
"We loved having All Things New play this song live at our Christmas Concert last year! Their performance of 'Go Tell it On the Mountain' is top notch. Play it loud, play it often!" - Jenny Estebo (Fish LA Director of Promotions)
Media also praised the debut effort by All Things New singer Garrett Hornbuckle, drummer Luke Wycuff, bassist Joshua Schou, and guitarist Jeff Stein.
"Lyrically, the group can be commended for writing original material based on profound topics with an average age of just 21 among its members." - Crosswalk
"These four young men of God are only in their early 20's, yet there's something mature beyond their years about this record as a whole that I haven't seen in many other albums for a while." - Christian Music Zine
"When you hear of a group being hailed as being one of the most promising new acts in Christian music, chances are, one might not expect four twentysomethings hailing from Orlando, Fla. to fit the bill. Yet that's exactly what the guys of All Things New are. This is a band you definitely want to be paying attention to." - New Release Tuesday
- ###-
About All Things New: Hailing from Deltona, Florida, All Things New is made of Garrett Hornbuckle (vocals), Jeff Stein (guitars), Luke Wycuff (drums), and Josh Schou (bass/guitars). On the surface, All Things New could be seen as a group of four longtime friends living out their dream and playing music across the country, but dig a little deeper and you'll find godly men who know all too much about broken homes, broken hearts, and broken faith. Although the members of this worshipful, contemporary, and often folksy Florida quartet could talk about their childhood like it was yesterday, the songs they write and sing on their self-titled debut album already contain the clarity of a hard-won life lesson: things break apart in this world, but God restores them and makes all things new.
For more info on All Things New visit the JFH Artists Database.