GRAMMY NOMINATED HIP-HOP DUO GRITS DEBUT THROWBACK SERIES CHRONICLING EACH OF GROUP'S ELEVEN FULL LENGTH RELEASES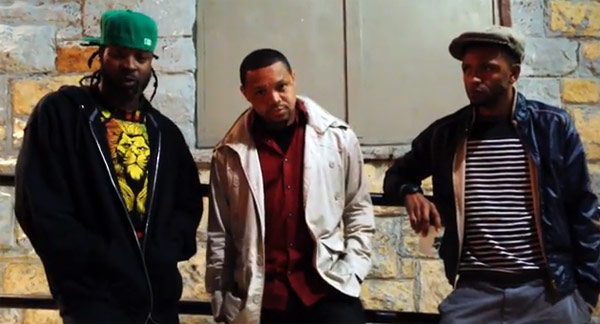 NEWS SOURCE: Revolution Art Management
November 16, 2013
Nashville, Tennessee -- Two time Grammy-nominated and 5-time Dove Award winning hip-hop duo GRITS have debuted a new series on YouTube, dubbed The Throwback Series. The series is an 11-part documentary, chronicling the group's eleven full-length albums, covering hits like The Art of Translation and lesser known albums like their second full-length, Factors of the Seven. The episodes will be available to watch on YouTube and on the GRITS website, starting October 26 with the first episode focusing on the duo's debut, Mental Releases. Besides the 11-part series, each episode will also have a director's cut, with b-roll footage and extras from members Coffee Jones and Bonafide. New videos will be coming every Friday and you can see the first three episodes now here: http://www.youtube.com/gritsofficial.
The Throwback Series will not only feature Coffee Jones and Bonafide. The mini-documentaries will feature numerous guest stars, such as TobyMac, VERBS, DJ Maj, Joey Elwood (President of Gotee Records), Mo Henderson (producer for many GRITS albums), and others. GRITS is also asking fans to submit questions for them to answer through their various social networks, and they will submit special videos of frequently asked questions, so now is your chance! You never know, there might be another GRITS album coming.
# # # # # #
ABOUT GRITS:
Coffee Jones and Bonafide make up the five-time Dove Award-winning and two-time Grammy nominated hip-hop duo GRITS. Together, they have toured the world and recorded eleven full-length albums, and their songs have been featured in blockbuster hit films like "Fast and Furious: Tokyo Drift", Martin Lawrence's "Big Momma's House 2", and Jack Nicholson's "Something's Gotta Give". Their single "Ooh Ahh" has sold over 1 million units, and the duo has sold over 900,000 albums since their start in 1995. In addition to the accolades won by the group, they are also founding owners of Revolution Art, an independent record label working with several artists at the start of their careers.
FOR MORE INFORMATION
Facebook: www.facebook.com/officialgrits www.facebook.com/iamcoffeejones
Twitter: @officialgrits @iamcoffeejones @TeronCarterV22
Youtube Channel: http://www.youtube.com/gritsofficial
For more info on GRITS visit the JFH Artists Database.