Acquire the Fire Prepares for New Album EPIC TRUTH With "God Victorious" Lyric Video
CD Available In Stores, Online Dec. 17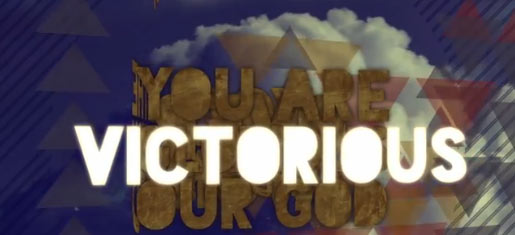 NEWS SOURCE: eOne
December 4, 2013
NASHVILLE, Tenn. (December 04, 2013) - Acquire The Fire, one of America's most dynamic youth ministries, is excited to announce the upcoming release of their worship album, EPIC TRUTH on December 17th, 2013 in partnership with eOne Worship. ATF is gearing up for the release with a brand new lyric video for the anthemic pop single, "God Victorious." Watch the video now!
Link: http://www.youtube.com/ATFacquirethefire
For over twenty years Acquire The Fire and its parent ministry Teen Mania have emphasized worship in its on-campus ministry schools, its events and in the lives of the millions of students who have been impacted by ATF.
In the earliest days, Ron Luce - President and Founder of Teen Mania Ministries - was their very first worship leader. As the years progressed, ATF's live worship advanced to different formats from both internal and external bands. "The time has come for ATF to raise up young leaders who carry the sound of worship to the nations and to all generations," says Acquire The Fire Executive Director Kemtal Glasgow.
"My hope is that through our music people will experience God's unyielding, unrelenting, matchless love and grace for each and every one of us," Glasgow continues. "This album has been a dream in the making for many years, and it is our prayer that this Epic Truth album is the beginning of a legacy of powerful relevant worship that will echo far beyond the events themselves."
EPIC TRUTH is the musical soundtrack to the 2014 ATF theme and the songs on the album will be sung at the nearly 40 events between January and May. Including contributions from feature artists Satellites and Sirens and We Are Leo, as well as the worship songs used at each event, this CD will engage teenagers and worshippers of any age with the Epic Truth of the risen King!
To find out more about Acquire The Fire visit:
www.acquirethefire.com
www.facebook.com/acquirethefire
www.youtube.com/atfacquirethefire
www.twitter.com/acquirethefire
About Acquire the Fire
Acquire the Fire is a 27 hour, full-weekend, themed, Christian event that is engineered to deliver the Gospel to young people in an immersive, entertaining, unique, and powerful way. Acquire the Fire is one of the oldest and largest events of it's kind with 22+ years of experience and 50+ yearly events.
About eOne Worship
eOne Worship is a division of Entertainment One. Based in Franklin, Tennessee, eOne Worship exists to give a voice to the music of today's multi-cultural church and worshippers worldwide. eOne Worship's roster includes Martha Munizzi, one of today's leading worship voices, song leader Bryan Popin, Spanish worship compilation Mi Corazón Canta and Phoenix-based worship pastor BJ Putnam.
For more information on eOne Worship, visit facebook.com/eOneWorship and Twitter.com/eOneWorship.
About Entertainment One
Entertainment One Ltd. (LSE:ETO) is a leading international entertainment company that specializes in the acquisition, production and distribution of film and television content. The company's comprehensive network extends around the globe including Canada, the US, the UK, Ireland, Australia, New Zealand, Benelux, France, Germany, Scandinavia, South Africa and South Korea. Through established Entertainment and Distribution divisions, the company provides extensive expertise in film distribution, television and music production, family programming and merchandising and licensing. Its current rights library is exploited across all media formats and includes more than 24,000 film and television titles, 2,700 hours of television programming and 45,000 music tracks.
For more information about Entertainment One, visit www.eonemusic.com.