Carlos Whittaker Says 'You can Live Your Life or It Will Live You'
in New Book "Moment Maker"
Popular Blogger's Debut Book Out April 1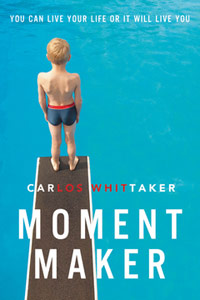 NEWS SOURCE: The M Collective
January 14, 2014
Nashville, TN (January 14, 2014) – Chances are you've heard of musician, thought leader, blogger and communicator Carlos Whittaker and just didn't realize it. You may have heard of him through a certain viral video that received a People's Choice Award, his segment on TLC's "LA Ink" or maybe through his popular blog. Whatever the outlet, one thing's for certain – Carlos Whittaker knows how to make big moments in his life. On April 1, Whittaker brings it all together in his first book aptly titled, "Moment Maker – You Can Live Your Life or It Will Live You." With life happening all around, what you get out of it depends on how engaged and deliberate you are. In "Moment Maker," Whittaker shares how he has learned to make each moment count and how those moments add up to a life rich with meaning and full of purpose.
Hear Carlos Whittaker speak more on "Moment Maker" – http://youtu.be/TbsbcEmKIhc
For Carlos Whittaker living deliberately is a way of life. Making moments that are significant, memorable or impactful is a part of how he navigates each day, and it has forever changed the landscape of his story. Whittaker divides these discoveries into three parts – "Creating Moment," "Receiving Moments" and "Rescuing Moments." Through lessons and application, Whittaker explains his methodology for living intentionally and claiming moments that touch the lives of others whether they be his family, his friends, his colleagues or complete strangers.
About Carlos Whittaker
Carlos Whittaker is a renowned musician, thought leader, blogger, and communicator. He has been the worship leader for Andy Stanley's Buckhead Church in Atlanta and is on the leadership team for Catalyst as well as leading worship at many of their events. He currently attends Cross Point Church in Nashville and leads worship there. He and his wife Heather and their children live in Nashville, TN. He blogs at: ragamuffinsoul.com
# # #
For more info on Carlos Whittaker visit the JFH Artists Database.