HUSBAND/WIFE DUO WE ARE THE MONKS
BOWS SELF-TITLED DEBUT TODAY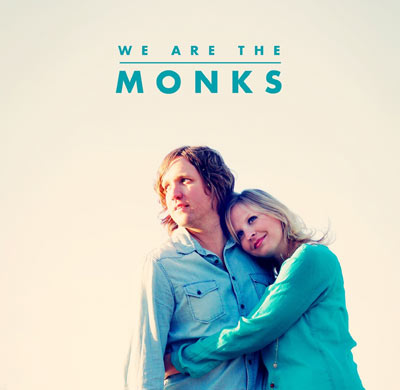 NEWS SOURCE: Turning Point PR
March 18, 2014
NASHVILLE, Tenn.-We Are The Monks, the self-titled debut from husband/wife duo Trent and Shellie Monk, releases today on iTunes. Produced by Mitch Dane (Jars of Clay, Bebo Norman), with "Rise" produced by Ed Cash (Chris Tomlin, Dave Barnes), the project's eight selections were all written or co-written by Trent Monk.
Celebrating love and the power of relationships, highlights of the organic pop project include the autobiographical "Here We Go," depicting the couple's journey together; "My Help," a poignant personal testimony of Hope; "Walking on the Water," an upbeat challenge to live by faith; and the Ed Cash-produced foot-stomper and album closer, "Rise."
One of the recording's most intimate moments is "These Arms," penned prior to the birth of the couple's first child, Oliver. "I just couldn't wait to hold him," Trent Monk says. "It was becoming so real. I want us to always be his home and his shelter."
"We love how the record turned out," Shellie Monk says. "First and foremost, we hope listeners are fed, challenged and encouraged by the lyrics. Ultimately, we hope people are drawn closer to Jesus."
"I feel more at home as part of a team," Trent Monk adds of the partnership with his wife. "That to me is a true testament to God's plan and His calling on our lives as a couple, both personally and professionally. He has a way of putting a little exclamation point on 'That was Me!' so we can see and acknowledge His work; it's a beautiful thing. I thrive in this, especially with my best friend and wife."
Trent Monk is known to Christian music audiences as half of the acclaimed former duo Monk & Neagle. Recording two critically-praised albums, the duo's songs "Dancing With The Angels" and "Twenty-First Time" became Christian radio favorites. Monk has also released two solo projects: 2011's Dreamer and 2012's Trent Monk Live. His re-recording of "Beautiful You," from Monk & Neagle's sophomore effort, became a Top 10 hit at Christian radio and one of Billboard magazine's Top 50 Christian Songs of 2012, a nearly unprecedented feat for an independent artist.
We Are The Monks is available at iTunes and leading digital music retailers. Follow We Are The Monks on Twitter @themonksmusic. For further information, visit wearethemonks.com
####
For more info on Monk & Neagle visit the JFH Artists Database.