Tenth Avenue North Reaches Career Milestone
of One Million Records Sold
Celebration during Winter Jam Date at Nashville's Bridgestone Arena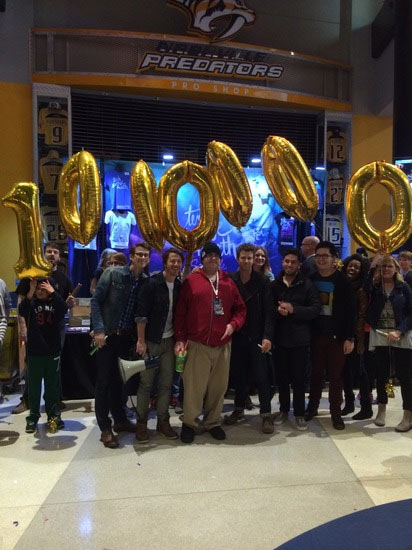 Left to Right: Jason Jamison, Mike Donehey, Tenth Avenue North;
Cody Miller (fan); Brendon Shirley, Ruben Juarez, Jeff Owen, Tenth Avenue North
NEWS SOURCE: Bozeman Media
March 18, 2014
Nashville, TN (March 18, 2014) ----- Reunion Records' Tenth Avenue North crossed a major landmark recently, as the group commemorated one million records being sold during its career. A unique celebration was held Sunday evening on a Winter Jam tour date at Nashville's Bridgestone Arena, when an unsuspecting fan, Cody Miller, purchased the one millionth record. Taking the fan by surprise, Tenth Avenue North burst from backstage dancing and cheering with signs, confetti and a drum line, even hoisting the winning fan up on their shoulders!
"One million records is an unbelievable milestone for us," says Tenth Avenue North. "We never would have thought it possible when we started playing together in college 14 years ago. What's even more incredible is to think of all the people and stories that number represents. We are blown away and grateful for all the people who have connected with this music we have been given the privilege to create."
Tenth Avenue North gave the sold-out audience an unparalleled live performance of their major hits that included; "Worn," "Losing," "You Are More," and "By Your Side." Tenth Avenue North remains on the Winter Jam Tour through March 30th before heading to Ireland and the United Kingdom in May. When the band returns from Europe they will be heading into the studio to record a new album that is scheduled to release in 2015.
For more information about Tenth Avenue North please visit online: www.tenthavenuenorth.com.
About Tenth Avenue North
Tenth Avenue North -comprising members Mike Donehey (lead vocals/acoustic guitar), Jason Jamison (drummer), Jeff Owen (electric guitar/background vocals), Ruben Juarez (bass) and Brendon Shirley (keys) -first impacted the music community as the best-selling and most played new Christian artist of 2008. In 2009, the group scored No. 1 on Billboard's Hot Christian Songs Artist Chart with "By Your Side" and reached No. 3 overall for the decade.
The breakthrough song recently achieved digital Gold status, according to the RIAA, signifying 500,000 singles sold. Such acclaim earned Tenth Avenue North the New Artist of the Year title at the Gospel Music Association's 40th Annual GMA Dove Awards.
The band's sophomore effort, The Light Meets The Dark (May 2010), debuted at No. 1 on the Nielsen Christian SoundScan chart and produced Billboard's 2011 No. 1 Christian Song of the Year, "You Are More." In 2012, Tenth Avenue North released its anticipated third album, The Struggle, with the first single, "Losing," peaking at No. 2 on the Billboard NCA radio chart. To date, Tenth Avenue North's debut album, Over and Underneath, has surpassed 456,000 sales, while the band's combined album sales total more than 1,000,000.
- ### -
For more info on Tenth Avenue North visit the JFH Artists Database.