"GOD'S NOT DEAD" SOUNDTRACK DELIVERS FIRST NO. 1 RADIO HIT
Shane Harper's "Hold You Up" Tops Christian Hot AC/CHR Chart

Album Continues to Gain Sales Momentum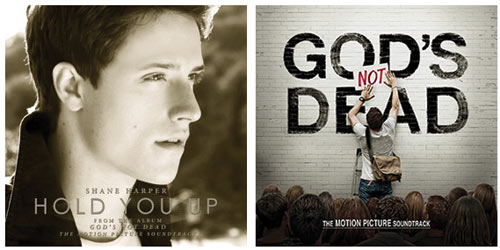 NEWS SOURCE: Savvy Media
April 18, 2014
(NASHVILLE, Tenn.) April 18, 2014—Inpop Records' March 4 release God's Not Dead-The Motion Picture Soundtrack turned out its first hit song this week with "Hold You Up," currently No. 1 on the Nielsen/BDS Hot AC/CHR chart. The single's success reflects continued momentum for the album as well, which maintains its position among the Top 10 soundtracks on iTunes' Top Soundtracks chart.
Grossing more than $40 million in box office sales since its March 21 release, Pure Flix's GOD'S NOT DEAD movie has helped to fuel success of the soundtrack too. Its lead radio single "Hold You Up," which initially launched last September, soared to No. 1 a mere four weeks following the film's debut. Consequently, the song; performed by actor/musician Shane Harper (Disney's "Good Luck Charlie," "High School Musical 2," "Flipped"), who also stars in the movie; currently boasts more than 25,000 downloads, nearly half of those in the last month alone.
Rachel Leigh with KPUL-FM in Des Moines, Iowa, comments, "I was impressed with Shane's style and lyrical content in 'Hold You Up' from the get-go. Eight months later, it's still our top-testing song!"
Furthermore, the record has consistently ranked among the Top 10 general market soundtracks on iTunes since GOD'S NOT DEAD opened in theatres.
"We are thrilled with how 'Hold You Up' has performed at radio and grateful to Christian radio stations for their support," says Inpop Records President/General Manager Mark Lusk. "The movie has truly taken off, and its music is resonating with audiences as well. Inpop is proud to be associated with such an exciting project."
God's Not Dead-The Motion Picture Soundtrack features tracks from Newsboys, Superchick, Jimmy Needham, Stellar Kart, JJ Weeks Band and Tricia Brock, among others. Additional singles "This is The Time" and "What I Know" are to follow. Purchase the album online at iTunes here!
About Inpop Records
Inpop Records is an independent Christian music label based in Nashville, Tenn. Established in 1999, Inpop has been home to some of the best-known bands in Christian music. Distributed by Capitol Christian Distribution, Inpop Records has become one of the top-selling independent labels within the industry, having established a reputation for seeking out the best artists in emerging talent and for expanding the Christian music marketplace with sound and ideas. Inpop artists have scored numerous No. 1 radio hits, earned multiple awards, nominations and achieved recognition around the world. Inpop's current roster includes Superchick, Mat Kearney, Stellar Kart, JJ Weeks Band, Tricia, Jaci Velasquez, Salvador and more. For more information, visit: www.inpop.com.
###
For more info on Newsboys visit the JFH Artists Database.