CINDY CRUSE RATCLIFF HITS BILLBOARD WITH "HEAVEN RAINING DOWN"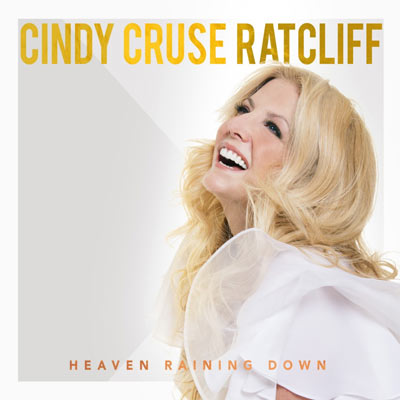 NEWS SOURCE: DREAM Records
April 25, 2014
Los Angeles, CA (April, 2014) - DREAM Worship is proud to announce, Cindy Cruse Ratcliff's Heaven Raining Down album has charted this week at #4 on the Worship Charts, #11 on the Christian Charts and #146 on the Main Stream Charts! Heaven Raining Down is a new, fresh, explosive full length CD recorded at Pastor Joel Osteen's Lakewood Church in Houston, Texas and produced by David Hanley (Press Play). It features 10 songs not only written by Cindy but also by Ben Fielding (Hillsong), Joth Hunt (Planetshakers), David Hanley (Press Play) and Jonathan Thulin. Heaven Raining Down is a unique mix of pop and worship that creates an album expressing that this is the season of "Heaven Raining Down", taken directly from the heart and message of Pastor Joel Osteen. Cindy's powerful, one of a kind delivery, energizes these songs filled with heart-felt lyrics and explosive melodies that will charge your atmosphere!
Visit iTunes to order her new album today!
ABOUT DREAM WORSHIP
DREAM was founded in 2008 to provide artists with a genuine approach to how real artist development should be done. By allowing for a partnership as a business model, Dream's artists empower themselves to develop and carry out a real vision for their lives as they affect other people's lives with their music and message. Incorporating social media, press, radio and touring it's allowing it's artists grow together as a family.
ABOUT CINDY CRUSE RATCLIFF
Cindy Cruse Ratcliff is the Senior Worship leader at Lakewood Church with Pastor Joel Osteen. For over 12 years now, Cindy has been broadcast weekly to 100+ million households in the US, as well as international broadcast to Australia, New Zealand, Korea, China & Africa. Cindy was a major driving force behind the last 3 Lakewood Church CD's, which sold in excess of 100K units each in which she is featured as a vocalist, writer, and co-producer. She is entering her 10th year on tour with Joel Osteen to sold out arenas and stadiums across the U.S and the world, including Madison Square Garden, Staples Center, American Airlines arena, Olympic arena-Sydney Australia, Belfast UK, Wimbley arena-London UK, NY Yankee Stadium, LA Dodger Stadium, Chicago's Wrigley field, Miami's Marlin Stadium and recently performing at the great Carnegie Hall.