Hardie Avenue Teams Up with Pillar Frontman Rob Beckley on New iTunes Single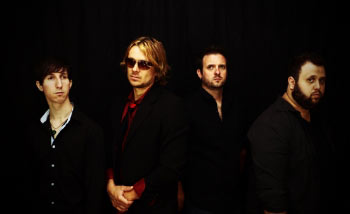 NEWS SOURCE: Nashville PR
April 29, 2014
(TULSA, Oklahoma) -- Christian pop/rock band Hardie Avenue has teamed up with Pillar frontman Rob Beckley for the new single, "Indestructible" - Available now at iTunes. The track will be part of the band's upcoming album, due later this year.
View the lyric video for "Indestructible" here:
http://youtu.be/FA92f1lFlRw
In 2013, Hardie Avenue released their latest album, "Party at the End of the World," via the band's own H. Ave Records with distribution through Elevate Entertainment. The album earned strong reviews, and heavy airplay in many markets from coast to coast. Their latest radio single, "Now I Say," has just been released to radio stations nationwide.
View the lyric video for "Now I Say" here:
http://youtu.be/XHoQbtGs4l0
"In the last year our band has changed like never before," says frontman Yuriy Mayba. "It is not just the music coming from the stage or just a performance. It is now more about relationship. We are not just playing a concert but we are also sharing who we were and how God has changed our lives. There has never been a time that we did not see someone give his or her life to God, someone healed, someone turned from committing suicide or pulled from depression. We will go on to show the light that God put in our hearts!"
The Tulsa-based-band formed in 2005, releasing a few independent projects before stepping into the national spotlight with their 2009 Tate Records release, "Beautiful Words." In recent years, Yuriy Mayba (lead vocals/guitar), Dave Allie (bass/BGVs), Steve Allie (lead guitar) and Josh Harms (drums) have shared the stage with many of Christian music's top acts, including Disciple, Hawk Nelson, Family Force 5, Jars of Clay, KJ-52, Sanctus Real, Fireflight, Manic Drive and many more.
###
For more info on Pillar visit the JFH Artists Database.