Elevate Life Church to Release First Live Worship Album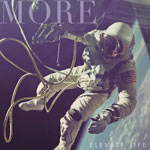 NEWS SOURCE: Elevate Life Church
May 14, 2014
(Frisco, TX) May 13, 2014 - Elevate Life Church today announced that iTunes pre-sales have begun for their new live worship album "More." The creative and worship teams have been working diligently to record and produce a collection of twelve original songs, all written and produced by members of the Elevate Life Worship team.
The album will officially be released to the public on Tuesday, June 10th and will continue to be available for purchase on iTunes and at Elevate Life Church. "More" consists of contemporary Christian worship music, similar to that of Hillsong Live and Planetshakers.
"Our ultimate goal for "More" is that it creates an atmosphere where faith, hope and love are elevated in people's lives," says Creative Pastor Clay Jones.
The title of the songs on the album include:
1. More
2. Praises High
3. Jesus Savior
4. My Hope
5. Only My God
6. Unfailing Love
7. I Hold Nothing Back
8. Our Savior's Come
9. Run To You
10. Embrace
11. For Your Glory
12. God Of Our Victory
Elevate Life released their single "Embrace" over Easter weekend. You can download it for FREE at www.elevatelife.com/embrace. The album release will be kicked off with a CD release party and worship night at Elevate Life Church on Wednesday, June 11.
You can find out more information about the album and Elevate Life Church by visiting www.elevatelife.com, and by following the Elevate Life Worship team on Facebook, Twitter and Instagram.
About Elevate Life Church
Elevate Life Church is a non-denominational church located in Frisco that was founded in January of 2000. Under the leadership of Pastors Keith and Sheila Craft, the church has grown to be a place where people can grow in their walk with God, their leadership abilities and their relationships. Elevate Life's services are broadcast nation-wide. Lead Pastor Keith Craft also recently published his first book, Your Divine Fingerprint. You can learn more about Elevate Life Church at http://www.elevatelife.com and http://keithcraft.org.