THE HANDS & FEET PROJECT INTRODUCES HAITI MADE, A BRAND UNITED AROUND QUALITY PRODUCTS, SUSTAINABILITY AND DIGNIFIED JOBS TO FIGHT AGAINST HAITI'S ORPHAN CRISIS
Kickstarter Campaign Launches Today, June 25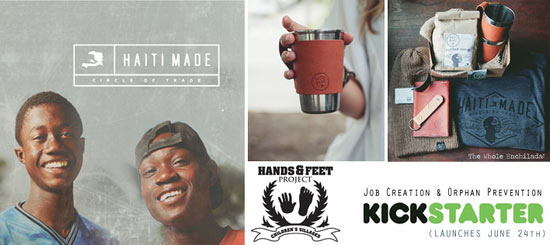 NEWS SOURCE: Merge PR
June 25, 2014
Franklin, Tenn - 25 June 2014 - The Hands & Feet Project, caring for the orphaned and abandoned children of Haiti since 2004, is excited to announce Haiti Made, purposed to bring economic hope to a country that has been defined by extreme poverty, joblessness and entitlement. Born from the need to create jobs for young adults transitioning out of orphan care, Haiti Made has joined with the people of Haiti to create dignified opportunities that equip and empower them to take responsibility for their own lives and the future of their nation.
"One of our growing convictions as we continue to provide help, is the need to also provide solutions," shares Mark Stuart, co-founder and Executive Director of Hands & Feet Project. "A few months ago a few of us from Hands & Feet came together and developed a product line. Haiti Made is not only going to give our children a transitional period where they can learn important vocational skills but also employ marginalized groups all over south Haiti and hopefully, some day, across the whole island."
To fulfill the vision of Haiti Made and to invite others into the story, the Hands & Feet Project is launching a Haiti Made Kickstarter campaign. Set to go live today, June 25, all pledges will go towards their goal of $20,000 that will allow Haiti Made to purchase the necessary equipment to scale up operations, hire additional experts and local craftsmen, and create jobs for young adults aging out of orphan care, and other marginalized people groups.
Rob Murray, Project Manager of Haiti Made, states, "There is so much potential in Haiti and all we're doing is gathering together to raise money to help unlock that potential. The future is bright! What if instead of more charity and more giving to the people of Haiti, we started to buy from them, and in doing so we deliver hope and dignity? That's what Haiti Made is all about."
Click on the Kickstarter video here and on the image below to see how you join the story. Also be sure to visit HaitiMade.com and HandsandFeetProject.org to find out more. A few of the items from the Haiti Made product line are pictured below.
About The Hands & Feet Project:
In 2004, the members of Audio Adrenaline founded the Hands & Feet Project. Inspired by fan reaction to the band's song "Hands and Feet," HAF is a non-profit organization dedicated to providing long-term, family-style care for orphaned and abandoned children with the love of Christ. They strive to raise a generation of orphaned children who will grow up to reach their God- given potential, while empowering first world citizens to partner with them in service at home and abroad.
The organization broke ground on their first Children's village in Cyvadier, a small town on the Southern coast near Jacmel, and began their journey of serving the forgotten children of the impoverished Caribbean nation. Currently tending to over 70 children in Cyvadier, a second village opened in Grand Goave in 2008 and is caring for 30 children. Visit handsandfeetproject.org for more information.
# # #
For more info on Audio Adrenaline visit the JFH Artists Database.