Carnegie Hall Concert Appearance by Keith and Kristyn Getty Announced
Joy-An Irish Christmas Tour Returns for 2014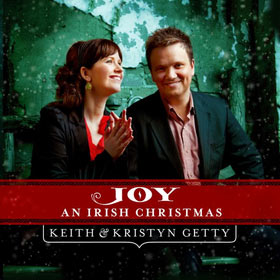 NEWS SOURCE: Getty Music
July 9, 2014
NASHVILLE, TN (July 9, 2014) ---- Getty Music Touring has announced that the 2014 tour of Joy - An Irish Christmas with Keith and Kristyn Getty and friends will include a one-night-only performance at the world-renowned Stern Auditorium / Perelman Stage at Carnegie Hall in New York City on December 17. The concert marks the couple's debut appearance in the famed venue and follows a sold-out performance of their Hymns for the Christian Life concert in Manhattan last fall.
"Kristyn and I continue to be astounded by the encouragement we have found in so many diverse places. The invitation of friends and supporters to highlight the Christmas message in the heart of New York City and on one of its finest stages is beyond what either of us might have ever hoped. We are thrilled beyond words," says Keith Getty.
The couple's annual Joy - An Irish Christmas tour was suspended in 2013 as they awaited the arrival of their second child, born shortly after the holiday. Prior to that, and since its inception in 2010, a three-year run of the Christmas tour was presented to more than 100,000 people and in a number of prestigious symphony halls and concert venues in North America including among others Nashville's Schermerhorn Symphony Center, Houston's Wortham Theater Center, and Atlanta's Cobb Energy Performing Arts Center.
The tour resumes this year (additional details regarding the fuller schedule are forthcoming), and its halo event will be the engagement at Carnegie Hall. The concert is a joyful Irish celebration of the birth of Christ featuring traditional carols, modern hymns, and Irish folk music. Accompanying the Gettys is their band of virtuosos from North America and Ireland playing a number of Celtic instruments. The evening is enhanced by traditional Irish step-dancing and the sound of a choir of 200-plus voices from across the US.
Tickets ranging in price from $15 to $125 are now available in person at the Carnegie Hall Box Office at 57th and 7th, by CarnegieCharge at 212-247-7800, or by visiting www.carnegiehall.org. Group rates are available by contacting 212-903-9705 or groupsales@carnegiehall.org. Additional information is also available at www.gettymusic.com.
About Keith & Kristyn Getty
The Gettys met in Belfast, Ireland when they began songwriting together. They were married in 2004, and two years later they recorded their first project as a couple in the United Kingdom and Nashville, TN. In 2007, they made the journey overseas to America and lived in Ohio for three years as they began their professional career, but found their permanent home in Nashville, July 2010. In 2011, the Gettys welcomed a new addition to their family when their daughter, Eliza Joy, was born; daughter, Charlotte Juliana, made them a family of four in January, 2014. The Gettys have released 6 albums and have garnered incredible success in a few short years that include an acclaimed repertoire of 21st century hymns and one of the most impactful live performances. The couple has appeared at Franklin Graham crusades, the GMA Dove Awards, The Third Lausanne Conference on World Evangelization, as well as feature performances at London's Royal Albert Hall, the legendary Grand Ole Opry, and on many other noted platforms. One of Keith Getty's most popular compositions is In Christ Alone, co-written with Stuart Townend and released in 2001. The song was well-received that year but continues to grow in popularity, remaining the #1 most-sung-hymn in the UK since 2006 (CCLI) and finding position among the top 20 such songs in the United States, Canada, and Australia.
###