SHOW HOPE CELEBRATES MARIA'S BIG HOUSE OF HOPE FIVE YEAR ANNIVERSARY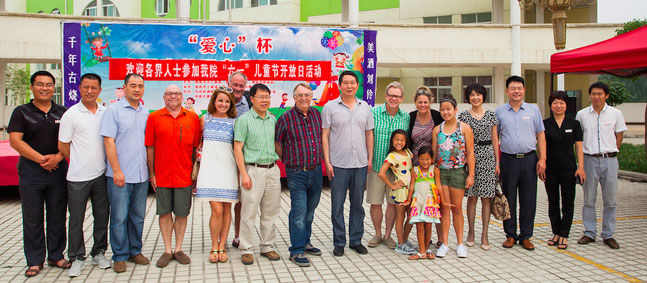 During a recent visit to China, the Chapman family along with Chinese officials visit the location of Show Hope's new Special Care Center in Nanyang
NEWS SOURCE: Merge PR
July 23, 2014
Franklin, Tenn - 23 July 2014 - It was five years ago this month that Show Hope, the orphan care ministry founded by Steven Curtis Chapman and his wife Mary Beth, officially opened the doors of Maria's Big House of Hope, their first Special Care Center. Maria's Big House of Hope, named after the Chapman's youngest daughter Maria Sue, is located in Luoyang, China, a city of more than six million people. Providing care in one of the poorest provinces in China, Maria's Big House of Hope is a beacon of hope not only for the Henan province and the orphans it serves, but also for the world.
Because of the generosity of tens of thousands of donors and monthly supporters these past five years, every child at MBHOH is provided with love, hope, and much needed acute medical care. Additionally, the staff and volunteers at Maria's Big House have been able to care for more than 800 children since opening as well as employ hundreds of Luoyang residents.
About Maria's Big House of Hope:
This Special Care Center provides the highest level of care for orphans with special needs. The quality care these children receive makes it possible for these children to thrive and increases the likelihood that they will someday have the opportunity to be adopted. At 60,000 square feet and six stories tall, this medical care center is well-equipped to provide the daily care and medical attention these children desperately need.
When Maria's Big House of Hope opened in July of 2009, there were 45 children receiving care, three nurses and 70 individuals on staff. Currently, 144 children are being served and the facility employs a total of 242 staff members. This number includes ten on the administration team, six medical staff, 192 nannies and caregivers, 19 cooks, and 21 housekeepers. Each staff member helps to make a difference in the lives of these children, and the local community of Luoyang benefits from these opportunities for employment.
During the course of five years, Maria's Big House has stayed at full capacity, as well as keeping a fully employed team and establishing a pre-k/kindergarten classroom for the older children. Medical teams from the U.S. have also volunteered their time and medical experise to travel to Luoyang to provide care for children awaiting surgeries. Services including dental as well as neuro, orthopedic and cleft lip/palate surgeries among others have been provided through these teams.
Most of all, many of the orphans cared for at Maria's Big House have been placed into forever families. To date, more than 150 children have been adopted or matched for adoption and await travel to their new families.
Along with Maria's Big House of Hope, Show Hope also provides for orphans with special needs in China through three other Special Care Centers located in Xinyang, Zhengzhou, and Jiaozuo are all located in the same province of Henan. These three centers operate inside state-run orphanages, and between them, roughly 120 additional children are receiving the same quality of care being provided at Maria's Big House of Hope.
As previously announced, in early 2015 Show Hope will be opening their fifth Special Care Center. Located in Nanyang, this new care center will provide highly specialized medical care for orphans in the area, with the capacity to provide medical care to 72 children at one time. Upon completion, this three-story, 12,600 square foot building will be housed in a brand new complex developed as a civil affairs project.
For further information about Show Hope, Maria's Big House of Hope and to find out how you can help, please visit www.ShowHope.org.
About Show Hope:
Show Hope™ is a movement to care for orphans, restoring the hope of a family to orphans in distress around the world. Founded by Steven Curtis Chapman and his wife Mary Beth, this nonprofit organization is helping to make a difference for the millions of orphans and waiting children around the world. Primarily they do this through Adoption Aid financial grants that help give orphans families and Special Care Centers in China that help orphans with special needs. Through programs like their Advocates, Student Initiatives, and Sponsorship, they are truly mobilizing a movement of individuals and communities who show hope to children in need.
When the Chapman's adopted their daughter Shaohannah Hope in 2000 from China, they desperately wanted to do something about the millions of waiting children who still needed loving families. In February 2003, they started the organization Shaohannah's Hope, now called Show Hope, as an official 501c3.
Since its inception, Show Hope has helped provide forever homes through Adoption Aid grants for more than 4,000 orphans from 50+ countries, including the U.S. In addition, more than 1,600 orphans with special needs have received critically needed medical care through Show Hope's Special Care Centers located in China. In 2013, Show Hope celebrated ten years of service!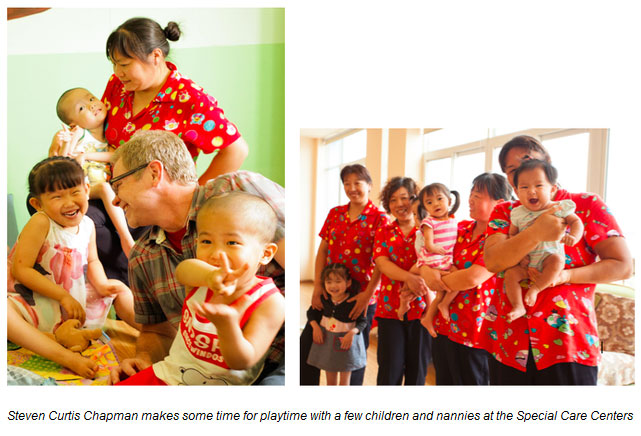 ###
For more info on Steven Curtis Chapman visit the JFH Artists Database.